Illustrated by Heidi Smith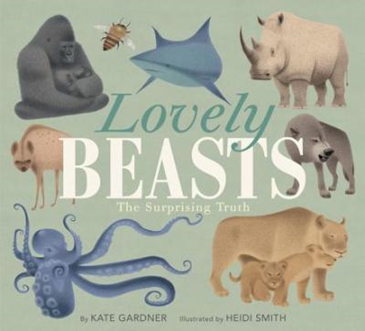 Published by Balzer and Bray, HarperCollins Publishers, 2018
There is an old saying that suggests there are two sides to every story. Usually we see one side very clearly. It takes some imagination, humility and empathy to be open to the possibility of seeing and acknowledging the other side.
This picture book gives us the opportunity to recognise and name with one word our first assumption about an animal we think we know. Turning the page, we discover that there is another aspect to their nature that we may not have considered.
Yes, spiders are creepy, but they are also crafty, spinning intricate webs that are simultaneously fragile and strong.
Yes, sharks have mouths full of razor-sharp teeth and inspire awe and fear, but did you know that they are also guardians of the ocean helping to maintain the health and biodiversity of life within its watery depths?
Yes, rhinos look tough and indestructible, but they are also vulnerable because their populations are constantly being threatened by poaching and loss of habitat.
The illustrations in this picture book are gorgeous. Having one black and white image with one word on a double page spread makes a powerful statement about what we assume to be true about that animal. Turning the page to see that same animal in soft colours and with an opposing descriptor is surprising and humbling.
I can highly recommend this picture book for children 4-8 years, it provides a wonderful basis for discussion about the animals depicted and also challenges the biases and assumptions we unwittingly carry and occasionally promote!
Below are more suggestions for picture books that open our eyes to the wonder and contradictions found in the animal world: