Illustrated by the author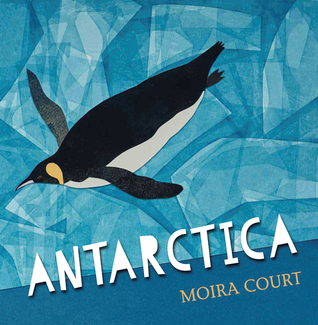 Published by Fremantle Press, WA, 2019
"I seemed to vow to myself that some day I would go to the region of ice and snow and go on and on till I came to one of the poles of the earth, the end of the axis upon which this great round ball turns." (Ernest Shackleton)
It's quite sobering to think that we live on a great ball in the sky, but equally remarkable that people have ventured to its far-flung axes. Shackleton was in the deep cold south searching for the pole more than one hundred years ago and knighted for his exploratory adventures on his return home. Whilst I will most likely remain unknighted in my lifetime, there are other ways to travel and learn about our freezing polar regions and feel honour-bound in the process.
Moira Court has authored and illustrated a simple yet evocative counting journey through the icy cold world of Antarctica. Using a mixture of printmaking techniques and collage we are introduced to ten creatures who thrive and endure in the freezing south. The language used is rich in imagery and I particularly like the double adjectives in every sentence. These adjectives rhyme as well and add a gentle humour to the animals portrayed. Can you just imagine "two courtly, portly emperor penguins waddling across the polar plains"? We are also introduced to orcas, whales, elephant seals, krill and snow petrels and you can learn more about them at the end of the book.
There is also a double spread with information about the South Pole itself. I did not know that there is more than one pole! My favourites are the Southern Pole of Inaccessibility and the Southern Pole of Cold, and not forgetting the Ceremonial South Pole, around which scientists have been known to scamper whilst only clad in a pair of shoes!
I can highly recommend this book for children 2-8 years. Here are more suggestions for picture books that explore the coldest places on earth, with a bias towards penguins, because who can resist them?