Illustrated by Zehra Hicks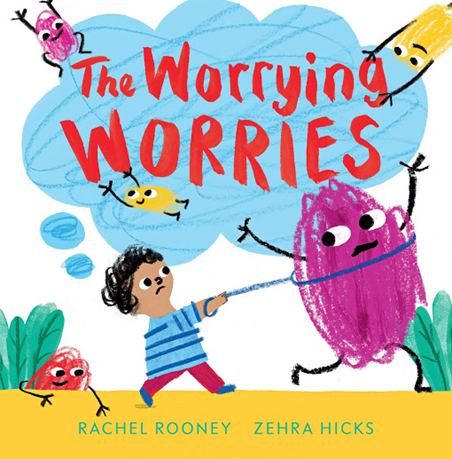 Published by Affirm Press, South Melbourne, 2020
I don't think I have met anyone who doesn't worry about something. After all, there is plenty to worry about as we travel through life. Once the worry begins, it can be hard to keep problems in perspective and ultimately, the worry can be overwhelming.
Rachel Rooney has presented this complex issue that afflicts so many of us inside a gentle rhyming story about a small boy who traps a Worry in his net one day and decides to keep it close as a pet. Initially this seems like a great idea and they go everywhere together. As time goes by however the Worry pet becomes larger, more annoying, more itchy, more invasive and begins to feast upon the boy's tears, sad thoughts and scary dreams. One day, the small boy realises that he can no longer live with this big Worry.
This is a great realisation.
What does he do? He goes to see the Worry Expert.
Her considered advice is to learn to live with the worry to minimize its negative affect in his life. Meditation, positive thoughts, yoga, dancing, exercising, having fun are all ways in which he (and we) can begin to achieve this.
I love the way that the Worry has been illustrated, it is like a small purple thumbprint with stick arms and legs. It is not scary or threatening, but benignly sits close to the small boy in everything he does. As it gets larger, you can see how much space it takes up and the purple thumbprint becomes more like a messy blob. When the Worry diminishes, it tries to thwart the different therapeutic techniques the small boy tries with his Worry Expert, but under her constancy and watchfulness, the Worry just becomes smaller and smaller.
This picture book, with its sensitive illustrations, validates the idea that sometimes we need professional help to overcome our problems. Together, the words and pictures provide a useful tool to begin asking the question, how are you today?
I can highly recommend this book for children 4-6 years and below are more recommendations for picture books that focus on worry and anxiety: