Illustrated by Adam Larkum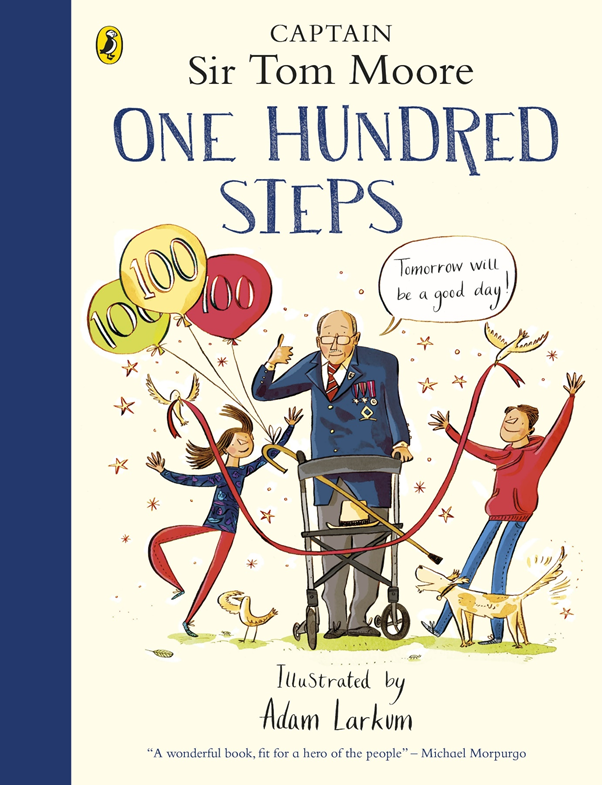 Published by Puffin Books, Penguin Random House, London, 2020
"A hero is an ordinary individual who finds the strength to persevere and endure in spite of overwhelming obstacles." Christopher Reeve
This wonderful picture book is about Tom Moore and his pledge to walk 100 lengths of his garden before his 100th birthday to raise funds for all the NHS health workers in the UK. I remember seeing him on TV being knighted by the Queen and thinking that here were two people facing each other, similar in age, having witnessed and lived through almost 100 years of world history. One was royalty and the other an ordinary individual. Both, in their own ways, making and leaving their marks on the world.
Simply by walking, and declaring his intent to raise money, Tom Moore garnered the attention of the world, and reinforced the idea that you are never too old to have an adventure, make a difference and be the change that you would like to see.
In this picture book, the story of Tom's life is told humbly, and with a sense of humour, and reflects a time gone by when the world was quite a different place. We learn about his love of cooking with his beloved mum and Tom's passion for racing and riding motorbikes. Tom was 19 when WWII was declared, and he was sent to Burma when he joined up. Fortunately, Tom came home from the war and met Pamela, together they began the next stage of life's adventures and soon had children of their own. There were many ups and downs, but family and love sustained him through it all. Even in his 90s, Tom made the trip to see Mt Everest, a long-held dream that finally became a reality for him.
Adam Larkum has illustrated this story with gentle humour and grace, enhancing the text and giving us an almost photographic glimpse of the world that Tom knew and lived. Scattered through the story are Tom's pearls of wisdom:
"The first step is always the hardest, but unless you take that first step, you'll never finish."
"You can do and be anything you want."
"For those finding it difficult: the sun will shine on you again and the clouds will go away. Remember that tomorrow will be a good day."
I can highly recommend this picture book for children 4-8 years and below I have suggested other picture book biographies that have inspired me: