Illustrated by Johnny Warrkatja Malibirr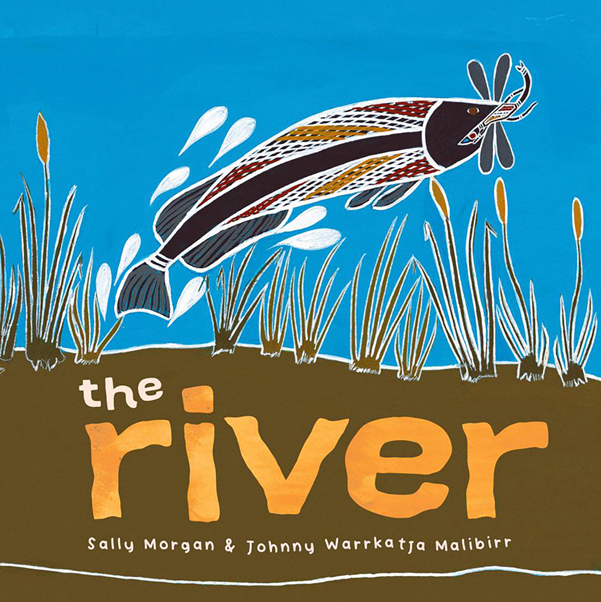 Published by Magabala Books, WA, 2021
Sally Morgan is a descendant of the Palyku people from the Pilbara region of Western Australia. Johnny Warrkatja Malibirr is an award-winning artist who has collaborated with Sally on a previous picture book, Little Bird's Day. Johnny, a Yolŋu man, lives in East Arnhem Land with other members of the Ganalbingu clan, and strives to use painting, song, and dance as mediums for others to learn more about Aboriginal culture.
In this picture book, we are invited to wander along the riverbank and use our eyes to look and our ears to listen as we encounter the animals living there. We see green ants crawling, goannas running, turtles peeping, kangaroos jumping and snakes sliding. We hear frogs croaking, fish splashing, emus calling, and crocodiles chomping. The rhythm of the text reminds me of Bill Martin and Eric Carle's picture book, Brown Bear, Brown Bear, What Do You See? In a similar way, the repetition of the questions and the answering prose in The River makes this an easy story to remember and read, even for the very young.
The illustrations use a limited colour palette of cerulean blue, dusty browns, and muted oranges and reds, giving the reader a sense of being under the wide-open Australian sky and standing near the muddy riverbank, watching and listening to the sights and sounds of that unique environment.
The River is a wonderful introduction to Australian wildlife and an invitation for young readers to use their eyes and ears when they are immersed in their own neighbourhoods, backyards, and parkland environments. There are sights and sounds all around us, birds calling, crickets chirping, owls hooting, kookaburras laughing, and magpies singing. So, take a moment today, go outside and look and listen!
I can highly recommend this picture book for children 3-6 years and below are more suggestions for picture books which focus on Australian wildlife: