Illustrated by the author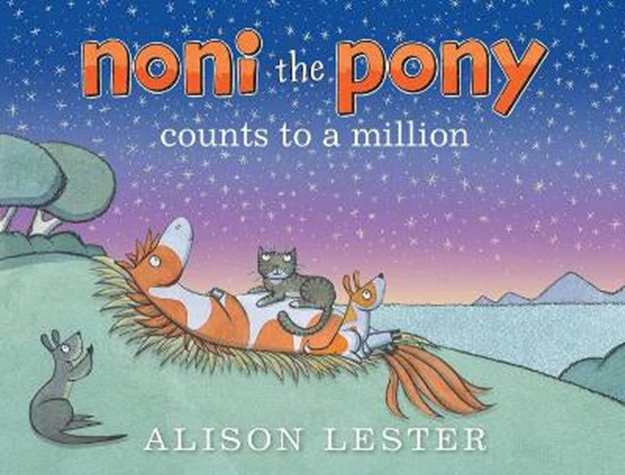 Published by Allen & Unwin, NSW, 2021
This is a wonderful counting and rhyming story featuring Noni the pony and her friends as they cavort and play by the grassy shoreline.
Beginning with Noni standing under one tree, we follow her watching two friends dance by the sea. Along the way, we meet three speckled hens, four laughing cows, five hopping wallabies, six wood-swallows swooping through the sky and many more friendly creatures.
Counting all the way up to 10, the next big number is found on Helga who has dozens of spots on her coat, and then on to Harry who has hundreds of spots all over his shaggy body.
Along the road in the dark of night, thousands of cars shine their headlights and finally under millions of stars, Noni and her friends fall fast asleep.
The numbers are highlighted in different colours in the text, and the simple rhymes make this easy to read to young children. The illustrations predominately use various hues of blues and greens which is soothing to look at and helps with the continuity of the story. All the creatures are easy to spot and a great introduction to the joys of counting.
I can highly recommend this picture book for children 2-4 years and below are more suggestions for picture books that teach us all about numbers: