Illustrated by the author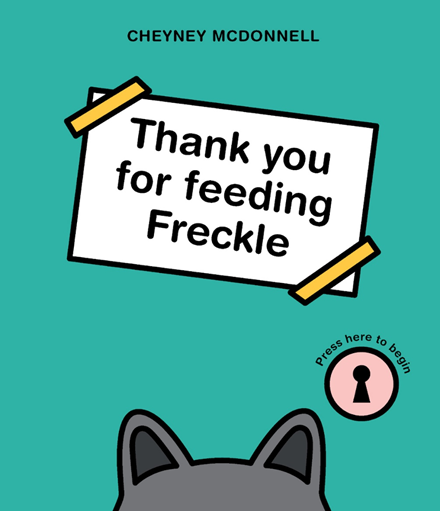 Published by Five Mile, 2020
While the children were growing up, we had a variety of small pets that became part of the family. Hermit crabs, goldfish, guinea pigs and one very large dwarf rabbit called Muffin. She was white, fluffy, adorable and not very smart! Having them looked after while we were on holidays was always on the list of things to do before we headed off to distant hills.
More recently I have had the privilege of looking after a young friend's strawberry plant (Uncle Barry) while he was on holiday with his family. I was impressed when I received a short note explaining how to care for Uncle Barry. Plants, like animals, need water, sunshine, attention and just the right amount of water and food.
This interactive picture book by Cheyney Mc Donnell is all about looking after Freckle the cat and the reader is the care giver. The dates are marked on the calendar and the house is at the end of a windy road you can trace with your finger.
The key to the house is under the flowerpot and you use it to open the green door. It's so dark inside that the reader has to clap their hands two times to turn on the light. Freckle's food is in the cupboard and with the help of some clever flaps and folds, it goes into the bowl for Freckle to eat. Freckle needs a sleep after lunch and afterwards it's time to play with toys before putting them all away again. Before you go, you just might see where Freckle's freckle is! And don't forget to clap two times again to turn off the lights.
The format of this picture book is just right for little hands and the pages are made of thick, durable paper that won't tear easily while all the flaps and folds are investigated. The illustrations are clear and uncomplicated, complimenting the text and reinforcing the written instructions, which are expressed with kindness and care.
I can highly recommend this picture book for children 1-4 years and below are more suggestions for picture books that encourage physical and imaginative interactivity which is especially helpful for young readers with lots of energy: