Illustrated by Matt Chun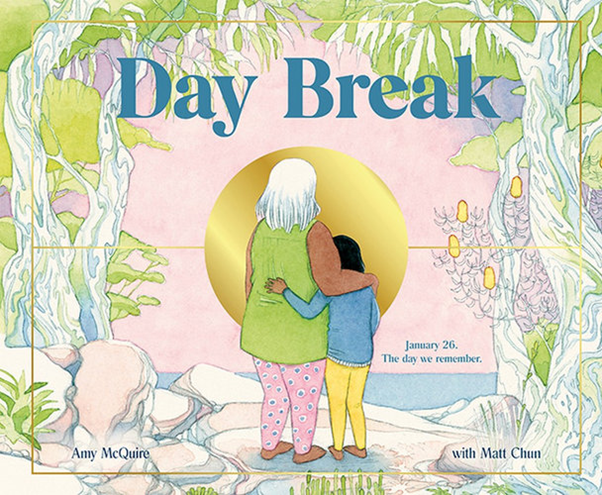 Published by Little Hare Books, Hardie Grant Children's Publishing, 2021
I remember sitting at the kitchen table the day before Australia Day this year and asking my daughter how she would be spending that annual holiday. Her response was to go to work as usual and take the holiday any other day but that one. It made me pause for a moment and think again about what I had gained at the expense of what others had lost. When we reflect upon Australia Day from the perspective of those whose land this has belonged to for so many tens of thousands of years, then our response to it must also be challenged.
Day Break confronts this uncomfortable truth and tells the story of how one family from three different generations approaches Australia Day.
At school, a young girl learns that January 26 marks the day "that white men discovered our country." At home, her father tells her that his ancestors were already here for many thousands of years. And Nan says that they will not be celebrating the day by sleeping in or eating fish and chips or going to the beach, instead they will be going back to Country and remembering those who died and lost everything when British settlers came to this land.
Amy McQuire is a Darumbal and South Sea Islander mother and journalist from Rockhampton in Queensland and in this picture book she has written a narrative not only for her two young children, but for all Aboriginal children so that they can see themselves and their place in Australian history.
The story is a gentle but forceful reminder of what happened more than 200 years ago, the survival of the Indigenous people and their continuing fight for recognition as custodians and owners of this land in the past, present and future.
I can highly recommend this picture book for children 4 years and above, and below are more suggestions for picture books which help us to understand Country and what it means to be an Indigenous person in Australia: