Illustrated by the author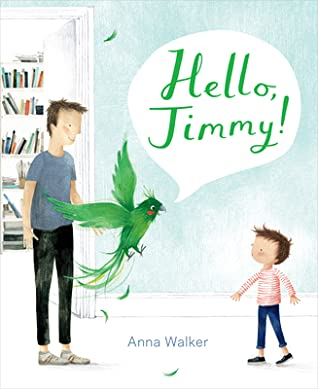 Published by Puffin Books, Penguin Random House, 2020
Depression, loneliness, separation and divorce, can be difficult topics to tackle in picture books. Depending on your experiences, the story can validate how you feel or help you to understand how someone else might be behaving, especially if that someone else is a person you love. Sometimes people can withdraw from life and relationships, making it hard to be the one who is on the outside of that formidable barrier.
How to help, how to respond, how to show compassion and empathy can be challenging. The road to recovery is not always straightforward. There can be many twists and turns, big backward steps and tiny steps forward. Sometimes it is hard to articulate just exactly how you feel through it all.
Anna Walker has dedicated this picture book to her brother, someone she loves who has been through the experience of separation from his partner. In the story, we meet young Jack visiting his dad who seems lonely and sad, the house is quiet and the normal routines are not what they used to be. Jack and his dad are finding it hard to make meaningful connections in this new way of being together.
That all changes with the arrival of a very loud, green, feathery and unexpected visitor! Jimmy the parrot is found on the doorstep after a storm, and his presence shakes up everything. Suddenly Jack's dad comes alive, the house is noisy with squawking and Jimmy's antics bring neighbours in to see the clever parrot.
It's great for Jack's dad, but Jack doesn't like surprises and he doesn't like Jimmy. The parrot's arrival hasn't changed the way he and his dad connect. In fact, it seems to have made Jack seem even more invisible. One night, Jack leaves his bedroom window open and Jimmy flies away.
This is a pivotal moment for Jack. On the one hand, he feels a sense of release because Jimmy is no longer a distracting presence in the house. On the other hand, he also feels guilty because that green, noisy and provocative bird seemed to be the catalyst for his dad's happiness and interest in life again…and now it is gone.
The rescue mission doesn't bring Jimmy back, but it does make father and son realise just how much they mean to each other, with or without a cheeky parrot in their lives!
There are lovely, intimate details in the artwork of this story: toasters, socks, newspapers, pots and pans, stray power cords, the messiness of home. There is also tenderness in the tale of how change can affect us and those we love.
I can highly recommend this picture book for children 4-8 years and below there are more suggestions for picture books which explore the themes of depression, loneliness, loss and separation: