Illustrated by the author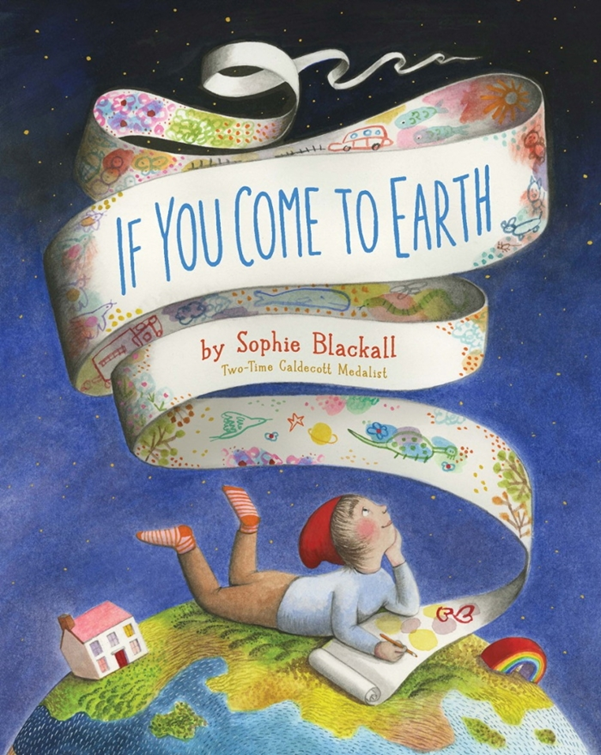 Published by Chronicle Books, California, 2021
This is a wonderful picture book about our unique blue planet, I think everyone should read it, whether you are young or old. Within its pages, you will discover all the important things you need to know about our planet earth: the people who live in it, the animals that roam the skies, plains and seas, the homes we inhabit, the way we travel, the weather around us, the work we do, what we think, how we communicate, the ways we can love and hurt each other, and how we help one another.
It's written as a handy guidebook for any curious and adventurous visitor from Outer Space that happens to stop by on its way elsewhere. The invitation comes from Quinn, a young boy lying on his bed who is thinking about the best way to describe the world he lives in, to someone who might not know.
The illustrations are breath-taking; my favourite double-page spread shows a large bird gracefully airborne, the image made up of a myriad of smaller birds within its shape. You can see a penguin, an owl, a flamingo, a puffin and a pigeon, just to name a few.
At the very end of this picture book, Sophie Blackall explains how the idea for it blossomed over many years, while she was travelling in different countries working for Save the Children, speaking to thousands of children and wishing she had a book just like this one to share with them.
The character of Quinn is based on a real boy, who said to Sophie that most likely visitors from another planet should be given mashed potato as a snack, because who knows if aliens have teeth? Very sensible.
I can highly recommend this picture book for children 3-100 years, and below are more suggestions for books which look at our unique blue planet and explore the wonders within it: