Illustrated by the author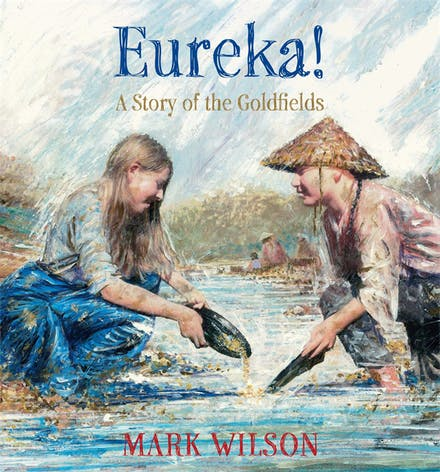 Published by Hachette Australia, 2019
I had a conversation with my daughter this morning about the chance developments of chosen pathways in our lives. She was reflecting on the good fortune of being involved in her current project and having acquired the skills to do it based on all the previous things she had said "yes" to in her life. Being open to new experiences, taking a risk, speaking to a stranger, applying for a new job, moving to a new home, making the most of once-in-a-life-time opportunities all combine to give us a set of skills, a mindset and a will to squeeze the juice out of life and lead us on to paths that we never expected to find ourselves trekking.
Mark Wilson takes us to the goldfields in Ballarat in his latest picture book. I wish I had learnt Australian history this way. It begins with a daughter and father, newly arrived from London, pushing a barrow holding all their meagre belongings, trudging to Ballarat. It had taken 9 months for the ship to make the long journey from England to Australia and now, without wife or mother, they face an uncertain future in a new land. Of course, they are not the first people to arrive and the Ballarat fields stretching out before them are teeming with prospectors, all searching for those elusive nuggets of gold.
A chance encounter with Chen, a young Chinese boy who is about 16 years old, sets the course for their lives. He welcomes them to his camp and offers them their first hot mug of tea. Chen's bravery is remarkable. He has travelled to Australia on his own to make his fortune so that he can return to China with enough money to bring his family here.
The story goes on to include the racism many Chinese men and women experienced in the 1800s, the hefty fees required to buy mining licences and tools, the police and soldiers harshly enforcing the law, the hardships endured by the prospectors when food and money ran out, and the miners banding together to fight against the licence fees, voting rights and land ownership. History records this as the fight at the Eureka Stockade in 1854, a terrible battle where many more miners died than soldiers and police. It is also the beginning of Peter Lalor's rise to fame and prominence.
It sounds like a lot to include in a picture book, but Mark Wilson has done it marvellously in words and pictures. The best part is that this story was inspired by the real-life adventures of Catherine Martin and her husband Pan Ah Shin who met on the goldfields of Ballarat. A chance encounter that altered the course of their lives and the lives of those who came after them. There is a wonderful photo of some of their descendants at the back of the book with more information about the Eureka Rebellion.
I can highly recommend this picture book for children 5-10 years, and below I have included other picture books which explore the lives of early settlers and their impact upon the land and the indigenous people they encountered: