Illustrated by the author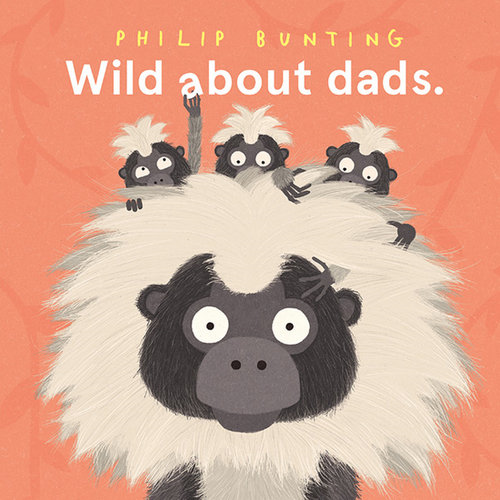 Published by Little Hare, Hardie Grant Children's Publishing, 2020
If you know someone who is about to become a father, or if you are thinking about your own father, or even if you are wondering about what attributes make a father particularly good in that role, then pick up this book, buy it or borrow it, and enjoy reflecting on all the shapes, sizes and ways of being a dad.
There is a lot to be learnt from animals in the wild and the way they naturally and inherently behave. Philip Bunting has picked out a few species and highlighted the best behaviours that fathers can model.
Did you know that gorilla dads teach their babies how to find food, play and look after each other? A desert dwelling sandgrouse makes a big effort to keep his offspring well hydrated by dropping water into their mouths from his water-soaked feathers. The giant water bug has the responsibility of carrying the eggs, laid on top of his back by his dear lady, for weeks until they hatch. Flamingo fathers regurgitate food for their baby chicks, sounds gross, but not if you are the baby flamingo chick! The Australian magpie is well known for defending the nest of his young by swooping on anyone or anything that comes too close. Chinstrap penguin fathers have even been known to team up and incubate abandoned eggs, help them hatch and grow into maturity.
The lesson we learn from all these examples is that dads can come in all shapes and sizes, temperaments, and skills. All of them show their children how to live, by action and deed. Whether you are a father, mother, grandmother, grandfather, sister or brother, in a family of any description, we can all benefit from this simple concept, that sometimes our love is better expressed by doing than by saying.
Most animals in this picture book have their own page and colour palette, and some lucky ones are illustrated across a double page spread. All critters are easily identifiable, the text is short but informative, and there are a few humorous asides on some pages, making it hugely accessible and interesting for younger and older readers.
I can highly recommend this picture book for children 3-8 years and below are more suggestions for some of my favourite picture books about fathers: