Illustrated by the author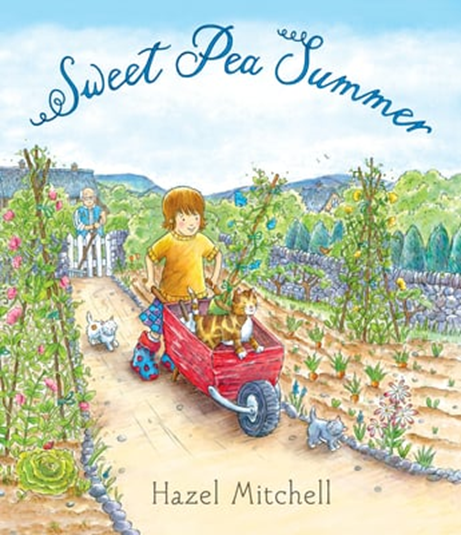 Published by Candlewick Press, 2021
I have come to love the garden later in my life. These days I am happiest when I am outside in my pink gumboots, with grubby overalls on, and tending to the myriad of plants that are growing in the good brown earth.
I love flowers the most and sweet peas are one of my favourites. In Melbourne, sweet pea seeds are best planted in March and with some tender care, rain, sunshine, and compost, you should be rewarded with scented flowers by November. So much about gardening is waiting and watching. This year, the sweet peas in the garden are growing up the brickwork of our chimney and in June they are almost 3 feet high.
So, it was with some joy that I picked up this picture book with that wonderful title and read about a young girl staying with her grandparents for the summer holidays while her mum is in hospital. It's a sad beginning, because even when we are young, we are already learning that life is not all about honey and crumpets. Some days are hard, there is much uncertainty, and we have to figure out how to keep going.
Luckily for this young girl, her grandparents live in a cosy home on a large block of land not too far away. Very soon, she is in the garden and her grandpa thinks it might be a good idea if his grand-daughter looks after the sweet peas. He even suggests that she could enter some blooms in the upcoming flower show.
There is a lot to learn: how to tie up the growing tendrils, how to remove old seedpods, how much to feed and when to water, how much sun and how much shade, and lots of waiting and watching. But even with all that care and attention, the sweet peas fail to thrive. What could be the problem?
Grandpa's watering technique needs some tweaking it seems and with that mystery solved, the sweet peas begin to thrive and flower. The hard-to-grow blue sweet peas are picked and put in a vase for the flower show. Will mum be there to see her display? Will her blue sweet peas win a prize?
This is a lovely story developing the ideas of perseverance, holding on to hope, and finding your inner strength. The illustrations are bright and colourful and filled with the sense of all that is good about family and the bonds that keep us connected and motivated.
At the end of the book there is more information about the beautiful sweet pea, its history from humble beginnings in Italy, its introduction into England during the late 17th century and competitions which celebrate its current diversity in form, colour and fragrance. If you haven't grown these gorgeous flowers before, grab a packet of seeds and give it a go, you will be rewarded by bunches of sweet smelling flowers in just a few months.
I can highly recommend this picture book for children 4-8 years, and below are more suggestions for picture books which explore the themes of gardening, gardens and growing plants: