Illustrated by Jane Ray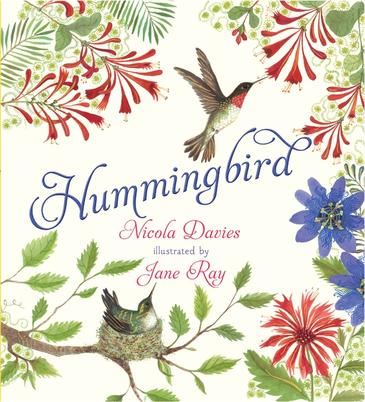 Published by Walker Books, London, 2019
"There are over 300 different kinds of hummingbird and even the biggest is very small. This book is about the ruby-throated hummingbird. It's tiny and weighs about the same as a penny, but every spring it flies over 3,000 kilometres from Mexico and Central America to spend summer in the USA and Canada, where it builds a nest and has its babies. In autumn it flies all the way back again, to spend winter where it's warm."
Nicola Davies and Jane Ray have combined their talents to tell us the incredible story of the mighty hummingbird. It may be small in size, but the hummingbird is astonishing in its capacity to travel long distances and heed that genetic inner calling to breed and follow the paths set down by generations beforehand.
Just like the circular route the hummingbird follows north and south, the story begins and ends with a little girl and her grandmother. We learn that the little girl will be travelling to New York City and leaving behind the colours and culture of her South American home, just like the hummingbird flying north.
Along the journey, the hummingbirds encounter different places to rest and eat, sometimes on a ship's rigging, other times on nectar-filled feeding dishes, sometimes on blossom and fruit laden trees, until they finally arrive at their nesting sites.
We learn that these tiny birds can lose half their body weight during the flight and that their nests are only as big as half a walnut shell!
In New York City, a little girl spies something white and small on the grass in the park, she knows what it is. In South America, a grandmother opens up a parcel just delivered to her and inside there is a small white eggshell wrapped up tenderly with a letter and newspaper clipping…yes, hummingbirds have found their way to New York City.
Nicola Davies is a zoologist and author and has written many informative and educational picture books about animals in our natural world: Surprising Sharks (2003), Outside Your Window (2012), Bat Loves the Night (2001), Dolphin Baby (2011) and White Owl, Barn Owl (2007). I encourage you to check out her website for more information about her publications and workshops.
Jane Ray's illustrations for this picture book about hummingbirds are gorgeous, I would like to wallpaper the rooms of my entire home with her art!
I can highly recommend this picture book for children 4-6 years and below are more suggestions for stories (and non-fiction texts) which teach us more about animal migration: