Illustrated by the author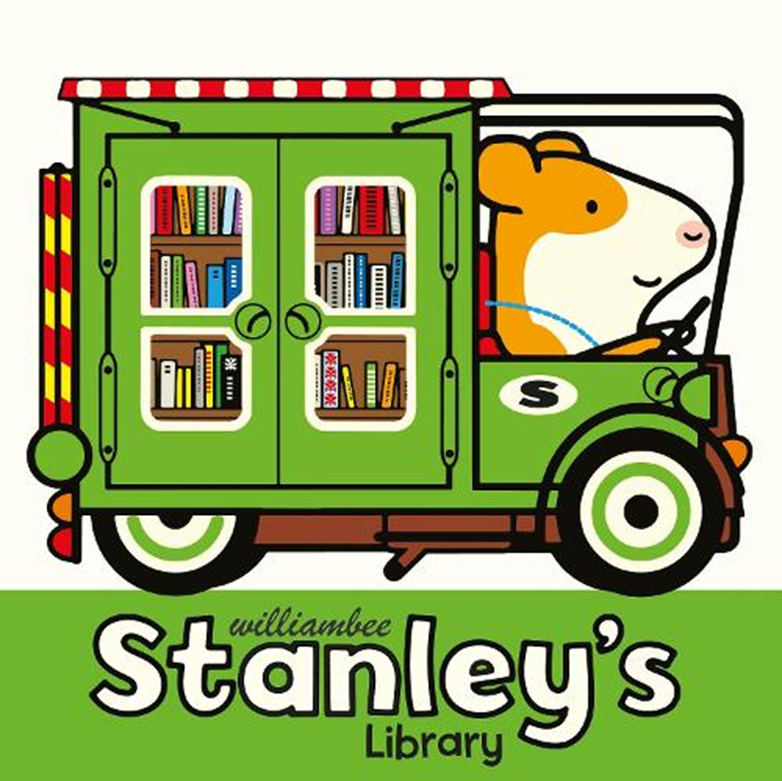 Published by Jonathan Cape, Penguin Random House, 2021
Stanley would have to be my favourite hamster, and to find him in his library van driving to the village green delivering books to all and sundry, just makes me love him even more!
We open the book to find that Stanley's library is getting ready for another busy day. It's 9.45am and the shelves need some tidying up. Take some time to read the titles – in the horror section there are books about cats, snakes, and owls. I guess if you are a hamster, that's understandable. Of course, there is a whole shelf dedicated to the wonders of cheese, all books bound in that cheesy, orangy, rindy yellow. Stanley can't help looking at a cheese book, I get that…if it's your favourite topic, books are like magnets!
Finally, the van is loaded up and Stanley is on his way to the village green. The hamster patrons who arrive are coming to borrow and return books, and Stanley knows them all. Myrtle loves books about cheese and Hattie loves motorbikes. Stanley has a surprise for Hattie and passes on to her The Big Book of Twisty Roads – how thoughtful! Shamus loves sailing, and Stanley has the latest book for him, Lots of Knots.
Back at the library, there is a special story time, Agatha Mouse has come to read her new book, First Mouse in Space. Everyone arrives in their fancy costumes. It must be good because Stanley takes a copy home and can't stop reading it, in the bath and in bed!
This is a delightful story about the joys of reading, the value of libraries and the importance of librarians. The illustrations are bold and bright, cute and endearing. There is gentle humour in the details to make the older reader smile and the younger reader to appreciate.
(If you would like to read more about Stanley and his adventures, there are many more titles to choose from as he explores the world around him from numbers, shapes and colours to being a farmer, builder and postman.)
I can highly recommend this picture book for children 2-4 years and below are more suggestions for picture books which explore the world of libraries and the books within them: