Illustrated by the author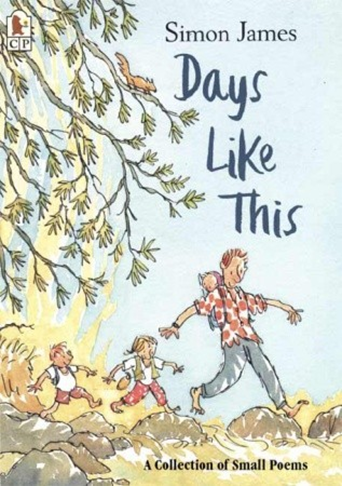 Published by Candlewick Press, 1999
My first day at school to-day.
Funny sort of day.
Didn't seem to learn much.
Seemed all we did was play.
Then teacher wrote some letters
On a board all painted black,
And then we had a story…
I don't think I'll go back.
By Rod Hull
Simon James has selected and illustrated a collection of small poems to be enjoyed and savoured by young and older readers alike. The poem written above by Rod Hull is my favourite. It reminded me of something my daughter said when she started kindergarten.
My mother-in-law had made her three new and wondrous dresses for the occasion. One dress for each day of the week she would be there. When the first three days were over, my daughter asked what she would be wearing next time she went to kinder. When she discovered there were no more new dresses, my daughter declined very politely to go to kindergarten ever again!
Poetry is a wonderful medium that can be used to introduce young children to the emotive power of words and to help them see the extraordinary in the ordinary moments of life.
In this collection, we are sledding down mountains, fishing for guppies, stepping over stones, going on adventures, feeling the summer sun, and wondering about the mystery of a fallen seed and what it might become. Each poem has its own double page spread, giving you time to pause and contemplate the language and the illustration before turning the page and investing your thoughts anew.
Contributions have been made by Charlotte Zolotow, Ogden Nash, Steve Turner and many others. I can highly recommend this picture book for children 3-6 years as a gentle introduction to poetry and below are suggestions for more of my favourite poetry and nursery rhyme books: