Illustrated by Sara Ogilvie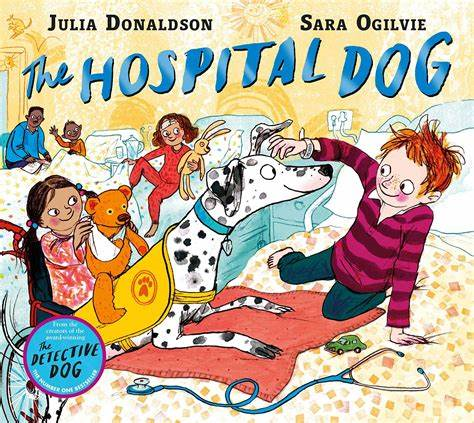 Published by Macmillan Children's Books, Pan Macmillan, 2020
Dogs make wonderful pets. Some dogs are so wonderful, they become therapists!
We have friends who own two Havanese dogs, Josh and Viva. They are so well loved and hard working. Anne brings them with her when she visits residents in aged care facilities, nursing homes and respite care. They have little jackets to wear on these special visiting days. That way, everyone knows they have unique jobs to do. Sometimes just their presence is enough to bring a smile on someone's face for the first time that day. Other times, the dogs' exuberance is just the thing that encourages someone to go for a walk or get out of bed. Often, all a person needs is the unconditional acceptance of their little bodies being close and two hearts beating together. The residents will say to Anne, "Don't come visiting again, unless you bring Josh and Viva with you!"
This picture book is all about a Dalmatian called Dot and her owner Rose, "with rings on her fingers and specs on her nose". Rose takes Dot to all the sick children in Wallaby Ward and there we see how Dot can change the way people feel in one afternoon. Whether it's calming someone's anxiety or relieving the boredom of being cooped up and immobile, Dot seems to know just what to do. And Dot doesn't just help the children who are sick, she also seems to sense that doctors and mothers need attention and care too.
One afternoon Dot does something very brave. In a moment, the tables have turned, and Dot is the one who needs to be patted, stroked, and cared for. The children of Wallaby Ward come to the rescue in the best way possible.
Julia Donaldson tells this story with so much love, bubbliness, and rhythm. The illustrations superbly compliment the text, with extraordinary details on every page. It's as if Sara Ogilvie has taken her notepad to the hospital ward and sketched everyone and everything she saw. There are crutches leaning up against the wall, hand sanitizers, tea trolleys, pigeons, stethoscopes and all the paraphernalia of life to be seen on these pages. It's comforting and familiar. I feel like I know Rose and Dot, they could be my neighbours…I wish they were!
I can highly recommend this picture book for children 2-6 years, it's a sensitive introduction to the importance and relevance of pet therapy and how it can be used in a hospital setting. Below are more picture book suggestions that explore what it is like to feel unwell and going to hospital: