Illustrated by Kady MacDonald Denton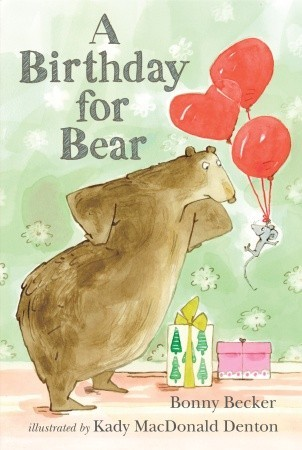 Published by Walker Books, London, 2012
If there were two characters that I would most like to host for tea it would be Bear and Mouse from this series by Bonny Becker.
Bear is fastidious, overbearing, grumpy and crotchety about almost everything.
Mouse is eternally optimistic, bright-eyed, cheeky and persistent about being Bear's best friend.
Together they are an odd couple, but very endearing.
In A Birthday for Bear, we learn that it is Bear's birthday and that he is not at all interested in celebrating it. Mouse has other plans however and we see him try every trick in the book to encourage Bear to change his mind. Mouse writes his own invitation to the party, but that doesn't work. He disguises himself as a delivery man with three red party balloons and gets shooed off the porch. He dresses up as postman and delivers a birthday card, but Bear will not be moved. Mouse even drops down the chimney as Santa with a present but Bear only notices all the ash making a mess over the hearth. It seems like the final straw. But is it?
Kady MacDonald Denton does a masterful job illustrating Bear and Mouse. On any given page, Bear is illustrated in various poses with a range of emotions. He can be outraged, frustrated, huffy, curious, surprised, contrite, sneaky and delighted. Mouse is a tiny, energetic, indefatigable and ever-present creature that constantly picks and pulls at Bear's privacy and never seems to give up despite the many setbacks he endures. Fortunately, there is always a happy ending and whilst Bear may sometimes forget that he has a wonderful friend, Mouse never tires of making sure Bear knows it.
There are many books in this series by Bonny Becker and whilst they do not need to be read in order, I highly recommend that you read all of them! They would be most suitable for children aged 4-8 years: