Illustrated by the author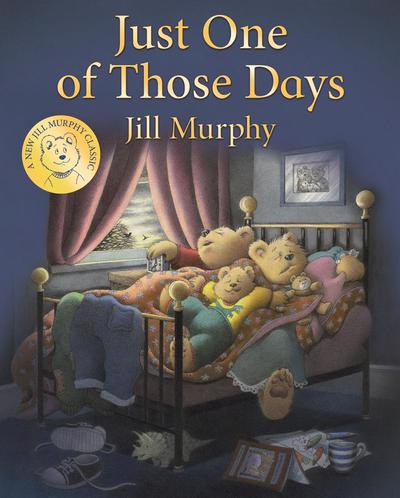 Published by Macmillan Children's Books, 2020
I love everything about the Bear family. Jill Murphy captures the familiar routines, trials and joys of parenthood with just the right language and rich illustrations.
I was hooked by the first page in Just One of Those Days because I remember how squeezy it was in bed with not only one child, but three…and how long the nights could be when you didn't get enough sleep and still had to face the day ahead.
To make things worse, as you turn the page in the story, it is raining outside and so many layers of clothing have to be put on before heading out. My favourite colour illustration is the look between Mr Bear and Mrs Bear as they venture out to work and Nursery…it speaks of love and teamwork and support for each other. So that when it is just one of those days, everyone knows they are bound together in this journey, and able to get through all the things that can go awry.
I did laugh when Baby Bear could not drink out of his favourite red cup at Nursery. Unfortunately, Someone Else got it and as we all know, water does not taste as good in the green cup. My daughter had a favourite cup and a favourite seat at the table…it did not bode well for anyone if that cup ended up in Someone Else's hands or that seat held up Someone Else's bottom!
And I did smile when they all arrived home at the end of the workday and Mrs Bear put on her comfy pyjamas…I do that too! Pyjamas and pizza, and a surprise for Baby Bear from Mr Bear, which makes the story complete.
This picture book is like a warm hug and helps me to believe in the wonderful restorative power of the family where everyone plays their part, despite not having enough sleep and everything that can and does go wrong.
Jill Murphy has also written about the Large family…Five Minutes Peace is another favourite for me. It's all a mother craves some days!
I can highly recommend this picture book for children 2-6 years and below there are more titles in both series to enjoy: