Illustrated by the author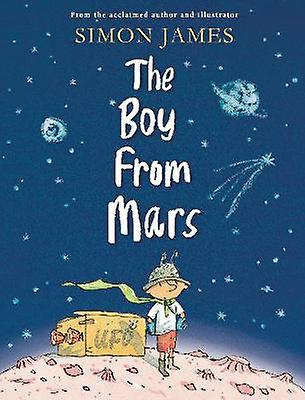 Published by Walker Books, London, 2017
Sometimes it's hard to face reality. Especially if your reality is scary, unpleasant, uncomfortable or just too difficult to put into words. Sometimes all you want to do is fly away and leave the problems far behind. Maybe you will come back and face them another day, or maybe not. Sometimes it feels like you should sort the mess on your own but no-one else understands how you feel or how to help you.
Simon James addresses some of these issues in The Boy From Mars.
Young Stanley has to say goodbye to his mum, who is leaving for work and will not be home overnight, and he is feeling a bit lost with this idea. The first thing Stanley does is run out to the garden and climb into a big box that is his spaceship and zoom off to Mars. Fortunately, Stanley comes back, but he is not Stanley anymore. He is a Martian! And this particular Martian does not behave quite like the other boys on Earth.
Martians don't wash their hands before dinner, they don't eat vegetables, but they do love ice cream. Martians don't wash their teeth before bed, but they do keep their helmets on in bed. This particular Martian doesn't behave so well at school either. Dad is a bit worried about what mum will think when she arrives home. Of course, mum does come home and the first question she asks is whether this little Martian has been good.
What can the Martian do? Jump back in the spaceship, go to Mars and bring back Stanley!
This is a wonderful story that explores what it is like to miss someone. We all have different ways of coping with this feeling. Fortunately for Stanley, his family allowed him the space and time to work it out.
The illustrations are tender and poignant, filled with all the details of life at home, making it very accessible and familiar.
Did you know that Simon James trained as a policeman after leaving school? Fortunately for us, he was asked to leave after penguin drawings were discovered in his notebooks!
I highly recommend this picture book for children 3-6 years, and here are more of my favourite books by Simon James: