Illustrated by the author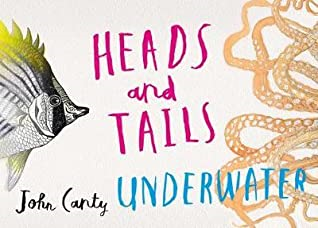 Published by Berbay Publishing, Kew East, Vic, 3102
"The fire of literacy is created by the emotional sparks between a child, a book, and the person reading. It isn't achieved by the book alone, nor by the child alone, nor by the adult who's reading aloud—it's the relationship winding between all three, bringing them together in easy harmony."
― Mem Fox, Reading Magic: Why Reading Aloud to Our Children Will Change Their Lives Forever
John Canty is a Melbourne based artist, designer and writer, with a flair for adapting nineteenth century artwork into pictures that can be appreciated by young and older readers.
Each underwater creature is hinted at with clues in the text and a partial drawing of its body. This gives you time to think about what it could be, begin a discussion about the clues and then have a guess, turn the page and see if you are right!
As a tool for learning, it's masterful. For young readers, the first reading gives them information and insight. The second reading tests their memory skills. The third reading begins to cement their knowledge and embed three new facts about each creature into their minds. This information can be used in the future as they learn more about the sea and the animals that live in it, and they have a visual memory to support it. I love the illustration of the whale and that it takes four pages to contain its image, and it doesn't even quite do that, because it is just so big!
John Canty introduces us to creatures that are familiar, such as a crab, eel, octopus, sea star, sting ray, turtle, whale and more. The illustrations are beautifully crafted on each page, uncomplicated and embellished with watercolour.
I highly recommend this picture book for children 3-6 years and suggest that you look out for these titles by the author: