Illustrated by Danny Snell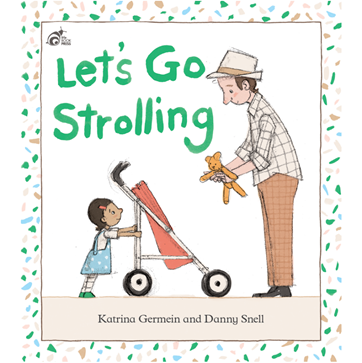 Published by Little Book Press, 2018
One of the great pleasures of life is going for a walk. Whether you do it in company or alone, with music or without, in the sunshine or rain, all rugged up with coat and hat or cool and easy in shorts and t-shirt, there is something special about slowing down and following the rhythm of your own footsteps. The minutiae of the things around us call out for our attention as we wander by: blades of green grass, hovering butterflies, waving wattle on sturdy branches, lengthening shadows, busy birds and the different textures of bark on trees. We breathe more deeply and feel more connected to the world around us.
Let's Go Strolling takes us on a walking expedition following a young dad and his small daughter. There is the wonderful routine of just getting out the door. Check the weather, yes, the sun is out. Shoes, bag, hat, teddy, tick! Into the stroller, out the door, let's go! There is so much to see and name: a pussy cat, blue letterbox, butterfly, aeroplane, a cloudy sky, traffic lights, a mother duck and her babies.
Two big double page spreads wordlessly announce their arrival in the park and look, there's mum with the little girl's older brother. Together they explore the simple wonders of being outside: playing in the sand, swishing through the grass, catching the falling leaves, discovering a spider's web and bird's nest, counting rocks and resting quietly with mum. Soon, it's time to go home and we notice all those things we saw on the way to the park, but this time in reverse!
When you read this story aloud, there is a gentle rhythm and rhyme to the words, much like the rhythm and rhyme of walking! This simple experience makes a great learning experience too. A trip to the park enriches vocabulary, relationship and sensory awareness.
The illustrations are simple and uncluttered, making it easy for young readers to match the text to the picture. And there is green grass everywhere, even on the end pages!
I can highly recommend this picture book for children 2-4 years and below are more suggestions for picture books that explore the joys of walking: