Illustrated by the author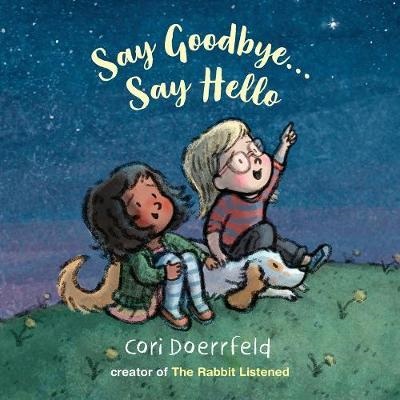 Published by Scallywag Press Ltd, London, 2020
Have you ever watched Sliding Doors? I'll never forget Gwyneth Paltrow missing the train in one version of the story and catching the train in the other. The changes in her life all hinged on that one event. Does it make you wonder if this is the same for all of us? Life can feel like it is full of opening and closing doors. Simple decisions we make everyday have the potential to take us along different paths. Big decisions can too but we make them more consciously and we take time to weigh up the potential consequences of our choices, so I suppose it feels like we are more in control, but are we really?
This picture book by Cori Doerrfeld explores the ending and beginning of new experiences. Sometimes we have to say goodbye in order to say hullo. Sometimes, a fun day has to end so that we can embrace the cosiness of night-time. Sometimes the loss of something or someone special can leave you feeling empty, but also gives a friend the opportunity to offer you comfort and friendship. Experiences that end or begin, whether we want them to or not, whether we planned them or not, can change our lives in ways that we can't even imagine.
These are difficult concepts for children to understand but the various scenarios presented in this picture book are engagingly illustrated and cleverly chosen. In some ways, the different scenarios are like abstract opposites. Saying goodbye to sitting alone and saying hullo to sitting together. Saying goodbye to frozen snowmen and saying hullo to watery puddles. Saying goodbye to giving up and saying hullo to giving it one more try.
I love the acknowledgment that goodbyes can be sad and not something that you want to experience. Because who knows what is around the corner? It could be worse. But it could be better. Having a conversation like that with your child is one worth having, because life is not all honey and crumpets, and this picture book will certainly get the conversation started!
I can highly recommend this picture book for children 4-8 years and below are more suggestions for books which explore the themes of leave taking, life changing experiences and saying goodbye: