Illustrated by Tony Flowers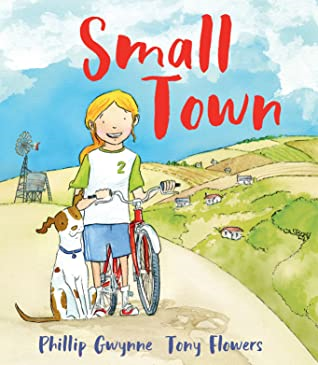 Published by Puffin Books, Penguin Random House, 2020
When my husband and I married, we moved to Northcote and discovered the delights of inner city living. We made many long-lasting friendships while we were there but there was one special lady who lived around the corner whom I have never forgotten. Her name was Gwen and she was old, ninety something and still living independently at home. Sadly, Gwen is no longer with us, but she told me something one day that I have never forgotten: be kind.
Small Town by Phillip Gwynne is all about kindness and based on the true stories of small rural townships like Pyramid Hill, Nhill and Strathbogie that have revitalized their diminishing communities by inviting refugees and immigrants to make these places their homes.
Milly narrates the story and tells us all about her wonderful home called Gong Gong: "so nice, they named it twice" is a repeated refrain throughout the book.
Milly is a member of a basketball team whose players are all called Chloe! That is not a big problem, until one by one, members of the team move away to live in the city. Milly's parents explain that sometimes families move because there is more work in the city and sometimes they move to be closer to larger communities.
At school Milly learns about refugees, war, famine and persecution. Observing all the space available in her hometown, the houses for rent and job vacancies, Milly decides to invite refugees to come and try country living. Milly makes a video with her Granny Mac, they send it out to the world, and wait and wait.
Soon, refugees are coming to Gong Gong by the carload and a township that was diminishing is revitalized with the influx of new families, some of whom play basketball! This is a wonderful story about people being kind to people and the amazing things that can happen when we embrace diversity in our lives.
Tony Flowers created the illustrations for this book and took inspiration for his images from exploring small Tasmanian country towns. Also take a close look at the end papers and check out the Flowers Bakery in the "video", apparently it's a tribute to Tony's baking skills and the fact that his family owned a bakery in Victoria from the late 1800s to early 1920. Phillip Gwynne is an Australian author and best known for his YA novel Deadly Unna?
I can highly recommend this picture book for children 4-8 years and below I have included suggestions for other picture books which explore the theme of kindness: