Illustrated by Jim Field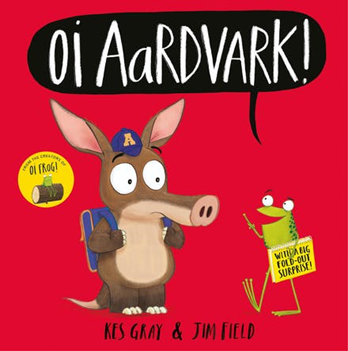 I love Kes Gray's picture books. I always read them with a smile, a giggle and no small amount of wonder. How does he come up with all those words that rhyme?
What does rhyme with aardvark? Hmmm, think about it…
Cardshark! And there is the shark, a smiling mouth full of teeth and nifty fins holding playing cards. Riding on top, the aardvark is there too, diving gear on and cards in hand.
In this picture book, Frog has a "New Alphabetty Botty Book" to fill with creatures from A to Z. Frog's task is to get them to sit somewhere that rhymes with their name. Cat and Dog have done this before, and they are not sure it can be done again. Frog is optimistic he can do it.
For young children, the illustrations are funny and ridiculous. Have you ever seen a donkey sit on a long key? For young readers, the rhyming text helps to ease their way in pronouncing unfamiliar words, like jays sitting on maize and mosquitos sitting on burritos.
There are a few books in this series, some are written with Claire Gray, and all of them in partnership with illustrator Jim Field.
I can highly recommend them for children 2-6 years. I guarantee you will close the book with a smile. Below are more books in this series: