Illustrated by the author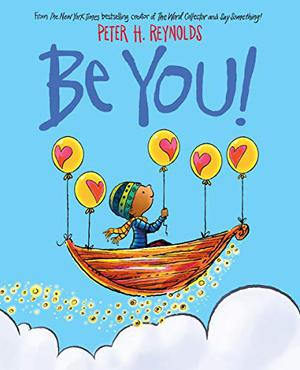 Published by Scholastic Australia, NSW, 2020
When my oldest daughter left home at 18 years old, I remember thinking to myself that there were so many things I had yet to tell her. Up until then, life had been full of learning experiences, but so much of it had been busy with the clutter of ordinary day to day living. Eating, sleeping, school, friendships, activities, family…the things that fill our days and calendars. I felt like I had focussed on the small things and not so much on the big things.
This picture book by Peter H. Reynolds starts at the beginning where we all start, babies in a world which we must learn to navigate. But instead of moulding ourselves to fit the world, he encourages us right from the start, to stay true and be ourselves, ready to embrace attributes which will carry us through life.
Each double spread explores a different inspirational quality: be adventurous, be connected, be different, be persistent, be kind, be understanding, be brave. Each precept is accompanied by a short paragraph and an illustration as an example of what it could look like.
I think my favorite spread is Be Brave: Try new things. Take a deep breath and plunge forward into new experiences. It gets easier every time you try. The illustration shows us a young boy peering over the edge of a diving board. You do need to be brave to take that leap into the unknown.
This is an uplifting picture book that reminds us to be the best person we can be as we go out into the world every day and gives us the vocabulary to start a conversation with a small someone you love.
I can highly recommend it for children 2-6 years and below are more suggestions about picture books which explore the themes of self-esteem, self-acceptance, persistence and individuality: