Illustrated by Owen Swan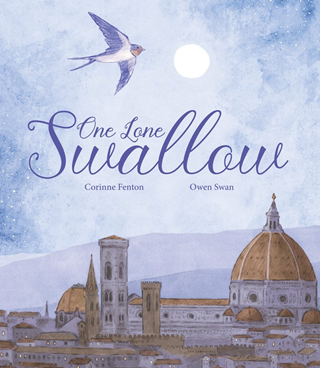 Published by New Frontier Publishing, NSW, 2020
I have been fortunate to visit Italy and stay a few days in Florence. Standing on the rooftop of the hotel one night, we saw great plumes of birds weaving, swirling and soaring in the dusky, velvet afternoon sky. The birds were flying swiftly, and as one, with choreographed elegance over rooftops, dome and piazzas. They reminded me of the great shoals of fish in the ocean, but these birds were pirouetting not in the deep water, but gracefully flying in the autumnal air.
Corinne Fenton's picture book about one lone swallow has taken me straight back to that magical moment. Beginning with the peel of bells, one lone swallow embarks on a search for her mate who has not returned to their shared nest. Over Brunelleschi's dome, through cobblestoned streets, under bridges, through arches and over piazzas, the lone swallow searches for him. Finally, at the feet of the massive statue of David, the swallow finds him tangled in shoemaker's twine. But can she save him before danger arrives?
Using a limited colour palette of browns, greys, purples and blues, Owen Swan has evoked the magic of Italy in this beautifully illustrated picture book. The story itself is elegant and poetic, giving the reader an insight into the drama that can beset a bird, or anyone, on any given day. The lone swallow's bravery, persistence and ingenuity in this story makes the ending a happy one.
I can highly recommend this picture book for children 2-6 years and below are more suggestions for my favourite picture books about birds: