Illustrated by the author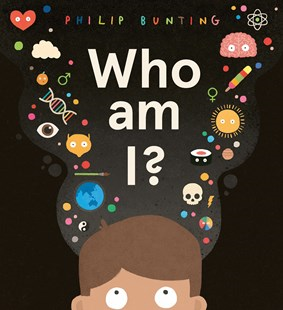 Published by Omnibus Books, Scholastic Australia, 2020
I wish someone had given me this book to read when my children were young and wondering about concepts that were difficult to explain. Asking simple questions and giving thoughtful responses, Philip Bunting tackles some of the most profound questions we can ask ourselves at any age, starting with: Who am I?
This picture book begins and ends with rainbow end papers, and in the middle we discover that human beings are more than just their names or the stuff they own or their gender. We are even more than the colour of our skin or the way we think and feel. All of us are just people, one of many "pootling around" on a vast earth orbiting a sun in an infinite universe.
That could be scary for some, but ultimately our uniqueness, individuality and humanity can be the stuff that helps us to connect with one another, across all the things that outwardly make us feel different.
Each question is posed on a different coloured background on the left page with a corresponding answer underneath. On the page opposite there is an illustration to help explain the idea. As always with Philip Bunting, there is gentle humour in the text, with a "humourless jellyfish" appearing on the skeleton page and a note in the small print about guts and stuff suggesting that the bladder is not the organ of consciousness!
I can highly recommend this picture book for children 4-8 years, it's a thoughtful introduction for discussions which promote philosophical ideas about identity, self-love, self-perception and inclusivity. Below are more suggested picture book reads that cover similar themes, both humorously and seriously: