Illustrated by the author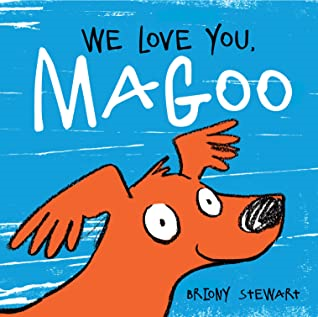 Published by Puffin Books, Penguin Random House, 2020
The engaging cover of this picture book just begs you to pick it up, and when you do, the story begins dramatically with no end papers to rustle through. Magoo, the silliest dogoo, is already into mischief on the first page. Lapping up eggs that are just waiting to be eaten, chewing teddy bears that should only be cuddled, scratching up doors that are barring his way in, drinking toilet water in the bowl…well, why not? It's a pretty colour of blue! Like a cheeky toddler, Magoo manages to cause mayhem and mischief everywhere he goes, in the most endearing way.
Each time Magoo does something he shouldn't, his adult owners show him what he can do. But being good is never quite as fun! The repeated refrain, "No, Magoo. This is for you," is easy to learn and young readers will delight in yelling it out when Magoo is especially naughty.
The gentle rhyming text, the thick glossy paper, the wonderful illustrations and the charming character of Magoo himself all combine to make this an easy, breezy read. The end of the story is a happy one too, there is finally a YES for cheeky Magoo!
I can highly recommend this picture book for children 2-4 years and below are more of my favorite picture books featuring dogs: