Illustrated by Kirsti Beautyman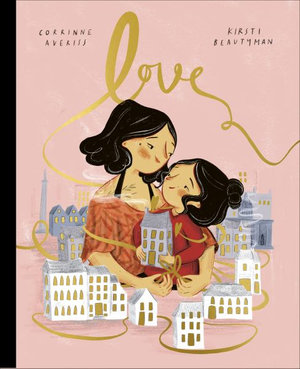 Published by Words & Pictures, The Quarto Group, 2020
There is a story in our family about a time when I did not pick up my daughter from primary school. It wasn't an end of school day pick up at 3.30pm with all the other mums and dads. On this day, it was close to midnight and a chartered bus was delivering children home from school camp. I had waited up sitting on our couch and made the fatal mistake of closing my eyes just for a minute. I woke suddenly to the phone ringing with a concerned teacher on the other end of the line. By the time I got to the school, my daughter was the only child left, standing alone and tearful in the dark, with a teacher by her side.
These moments stay with us. Separation and anxiety are real fears for everyone.
This beautifully illustrated picture book helps young readers to visualise love like a piece of string, connecting us to our family and friends, even when they are not close. Like a warm scarf or a shining light, the strings of love connecting us to those we cherish can envelop us, make us feel safe and help us endure moments of anxiety.
When young Tess goes to school for the first time, she is worried that the string of love connecting herself to her mother will not stretch far enough without breaking. A kind teacher reassures Tess that her mother will return, and a new friend talks about his string of love connecting him to a parent who has died. Tess discovers that everyone has connections that unite them to others, even when they are far apart.
But what happens when Mummy is late to pick Tess up from school and she is left in the classroom with her teacher after all the other children have gone home? Can strings that have been broken, be reconnected again?
The illustrations in this picture book are endearing and heartfelt. I can highly recommend this story for young readers 4-6 years, especially for those who are starting school for the first time and feel anxious about taking the first step. Below are more picture books which explore the concepts of separation and anxiety, love and connectedness: