Illustrated by the author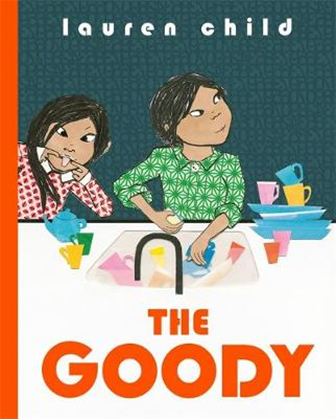 Published by Orchard Books, Hachette Children's Group, 2020
I have read this picture book many times now and I still don't know where to start. It's not that I don't like it, because I actually love it. And it's not that I don't have any thoughts about it, because I probably have too many, long after reading it.
Chirton Krauss (what a name!) is the main character and he is the very goodest goody. He is obliging, always eating his broccoli, even though it is his least favourite food. He has good manners, never picking his nose, even when he knows for sure that no-one is looking. He is kind, cleaning out the rabbit's hutch once a week, even though his sister Myrtle should do it every other week.
Chirton's parents are so happy with him, that they give him a Goody Badge. Now everyone knows and can never forget that Chirton is a goody. And then in red letters, like a commentary, we read:
If people have decided you are good, do not disappoint them by being bad.
So instead of this feeling of lightness that being good should bring, there is now an unsettling undercurrent of doubt. Where does goodness come from and should we continue being good for our own benefit or because of the expectations of others?
Myrtle, Chirton's sister, seems to have things all worked out and is riding the wave of life on the back of her brother's goodness. Myrtle is not invited to parties because she is not a good child, she isn't made to eat vegetables she doesn't like, and she is not expected to do her share of the cleaning of the rabbit's hutch. And in red letters, we are informed:
That is lucky, isn't it?
So instead of accepting the status quo, we are now thinking that life can be unfair for those who least deserve it.
When Chirton discovers his sister staying up late one night eating choco puffs and watching TV, simply because the babysitter can't convince Myrtle to go to bed, it feels like that is one straw too many for a Goody to accept. Chirton finally asks himself:
What is so GOOD about being a Goody?
So, you see, the story is complicated, and it is not even finished! It throws up questions about why we do what we do, how our behaviour impacts others, why expectations are so hard to live up to, what is fair and what is not fair, and that sometimes you can be kind and nice just because it feels good when you are kind and nice. And the world needs more people who are trying to be good, don't you think?
I can highly recommend this picture book for children 4-8 years, it could be the starting point for long talks about what being good means and that could be applied to children and adults alike. Below are more suggestions for picture books which explore the themes of good and bad behaviour: