Illustrated by Nadia Shireen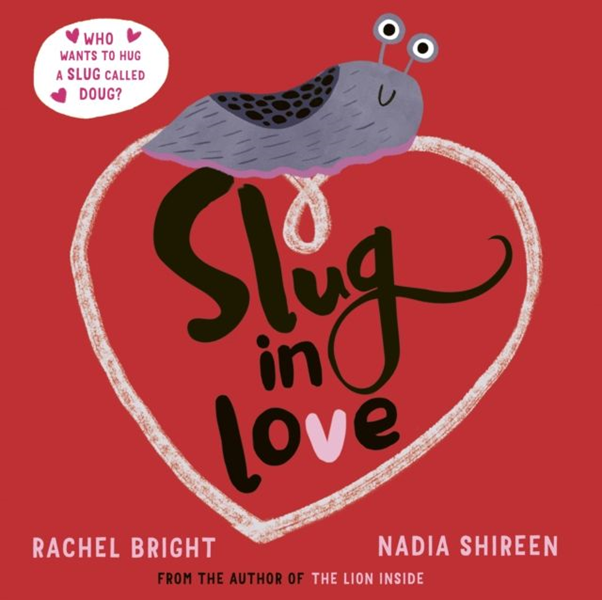 Published by Simon & Schuster, Great Britain, 2021
This is a bright and cheerful story about finding love, taking chances, and following your heart. Who would have thought that a story about all of that could be imagined featuring a slug named Doug in need of a hug?
I'm in the garden almost every day, discovering slugs and snails under pots and in pots and slithering towards pots…they are squelchy, icky, slimy and yucky! So, I can understand Doug's problem. Who would want to hug something like that?
But, one day, close to the white daisies and just over the log, there is a snail called Gail, who is just as grimy, icky, squelchy, and yucky as Doug. And she is gorgeous, with her red lips, red eyeglasses and leopard print shell. Gail looks like a perfect match for Doug…but is she?
There is a lesson here for everyone. Finding love can be hard, and sometimes the partner that you think will suit you best, is not the one that makes your heart sing. Sometimes, love surprises you most when you least expect it. The path of life and love is not always straightforward, but when it works out, we can be like Doug:
 he found his bug and now he's super duper snug!
This is a picture book that can be easily read and understood by a child learning to read and, at the same time, appeal to adults who might be doing the reading for the fourth or fifth time! Like Jon Klassen and Mo Willems, Rachel Bright has created a story that is satisfying, humorous and instructive on many levels.
I can highly recommend this picture book for children 2-8 years and adults of any age. Below are more of my favourite picture books about icky, squishy, squelchy snails: