Illustrated by Salvatore Rubbino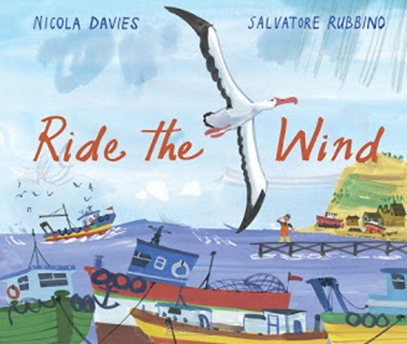 Published by Walker Books, 2020
The title of this picture book and the soaring wingspan of the bird on the front cover suggests that this story is all about an albatross. And it is. But it is also a tender story about a father and son, grieving the loss of wife and mother, and learning to live with her absence in their lives.
We meet Javier, his father Tomas and Uncle Felipe, on the choppy seas sailing the Magdalena off the coast of their hometown, catching fish and whatever else might get caught up in their nets. Tomas has changed since the death of his wife, and we learn from the things he says and they way he says it, that this change has not been for the better.
One afternoon, an albatross gets caught up in the fishing nets and is thrown aside on the deck of the boat while Tomas and Felipe sort through the catch. Javier, a boy with a big heart, keeps the bird safely wrapped in a tarpaulin and hides it until the boat makes it back to the shore. Once there, with the help of other people in the village, and without his father's knowledge, Javier creates a makeshift home for the albatross.
In the old storeroom behind the house, the albatross settles and grows strong again in Javier's old play pen. During this time, we begin to understand why Javier feels compelled to help the injured bird. Like the albatross leaving its partner in search of food, Javier's mother left home to travel to the city for work, but she never came back. Javier needs to help this albatross find its way back. He knows it won't bring his mother home again, but he understands the nature of waiting and wanting.
When Tomas finds out that Javier has rescued and hidden the albatross, his father is so angry that he does something unforgivable. Javier responds in the only way that makes sense to him. Suddenly, father and son must face their own worst fears and make brave choices about what it means to love and be loved.
This is a dramatic story brought to vivid life by the intimate connection between text and illustration. Rubbino's drawings are brilliant and evoke all the emotions and pathos of the story. I can highly recommend it for children 4-8 years and anyone who loves a good story about albatrosses.
For me, however, this story is a gateway to understanding that we all grieve in different ways, and that communicating how we feel can be hard, even with the people that we love the most.
Below are more suggestions for picture books about fathers and sons, a relationship that is precious, but not always easy. Fortunately, most of the books that are my favourites positively celebrate the wonderful bond that can be shared between fathers and sons: