Illustrated by the author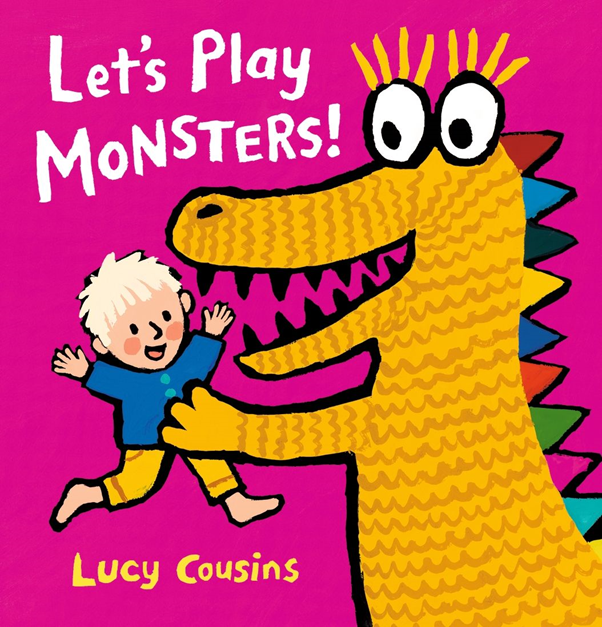 Published by Walker Books, Great Britain, 2020
The colours are so vibrant in this gorgeous picture book. Little Gabriel is three years old and he wants to play a game with monsters. We meet his family one by one as Gabriel grabs them by the hand and calls out in a repeated sing-song refrain:
Come on, Josie, I WANT TO PLAY! You chase me and I'll run away.
Young Josie, wearing a green polka-dot shirt and green trousers, becomes a hungry beast who is green and scary (but not really!) with sharp pointy teeth. Like the gingerbread man, little Gabriel runs away as fast as he can, that munching, crunching monster won't catch him!
Uncle Rufus is next, wearing a broad rimmed hat and pink swirly shirt, soon to become a rampaging monster, with a big grin, horns like a cow and a pink twirly tail like a pig. Watch out Gabriel, he might catch you!
Nonna might play if Gabriel tugs her hand just right, and she becomes a schloping, schlurping pink monster made of jelly and laughs with enormous round eyes, all the better to chase Gabriel as he runs away.
Kitty Cat and Flower join the chase too, but it's Mummy with her woollen jumper and zig-zag stripes who becomes a gobbling monster with spikes on her back and jaggedy teeth that likes to eat little boys, especially their toes and noses, and she joins the chase.
You can just hear little Gabriel's infectious laughter as all his family joins in the fun, pretending and imagining, chasing and growling, with smiles and love. It's bedtime all too soon and monster mum does what no-one else can do, the tables are turned:
Now you be a monster with a funny green head, who is tired and sleepy and ready for bed. Monster kisses, one, two, three, I love you and you love me.
I can highly recommend this picture book for children 2-4 years old, the illustrations are endearing, the rhyming text bounces the story along, and little Gabriel will steal your heart away!
Below are more suggestions for picture books about monsters, in all shapes and sizes, some scary and others not so much, some familiar and some new, some funny and some cute, but all of them imaginary, because there are no such things as monsters, right?