Illustrated by Linda Ólafsdóttir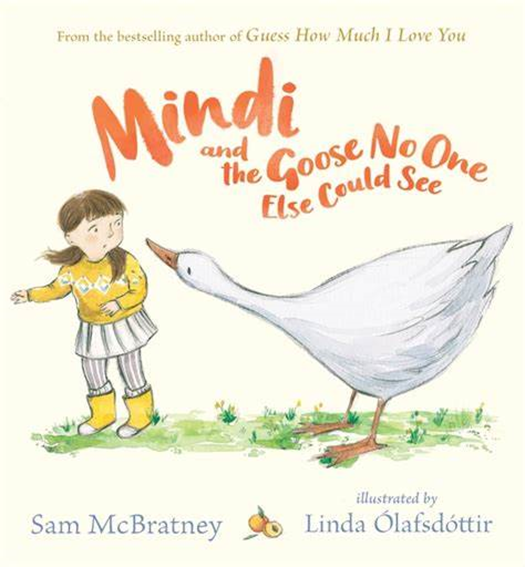 Published by Walker Books, London, 2021
The goose on the front cover of this picture book caught my eye, mostly because my son affectionately calls me a silly goose sometimes! In my mind, a goose could never be anything to be feared, mistrusted, or avoided, unless of course that goose was nibbling my hand or chasing me around the farmyard. But that's just it, isn't it? The things that make me feel unsafe, worried, or anxious might not be the same for everyone. My worries and anxieties might take the shape of clawing ogres or dark looming shadows, but for someone else it just might be a big goose.
That's the way it is for a little girl called Mindi. She's such a sweet character, small and cute, with her yellow sweater and matching yellow gum boots. She is afraid of the goose that comes to her room unbidden and uninvited, that no one else can see. Her dad can't find it, so he can't get rid of it. Her mum can't see it, so even threatening to smack it's silly bottom won't help.
Mindi's parents have a problem, how can they help their beloved daughter?
Luckily for them, there is a wise old man called Austen who lives in the village nearby, perhaps he can help. When Mindi's dad visits him on Shelling Hill, Austen gives some thought to the problem and says:
"I think you should bring Mindi to see me. Make sure she knows I live a long way away. Make sure she knows that she is going on a journey."
Mindi and her dad make the short 'long' journey to Austen's farm. Mindi greets all the animals, even two geese! But she makes a special connection with a young goat that Mindi names Black-and-whitey. This young goat has a special talent: if you give her a stone fruit, she will eat it and give you back the stone.
Herein lies the kernel of the story. Sometimes, we have to give something in return for a gift. Austen gives the young goat to Mindi, but in return, she must give Austen the Big Goose that no one else can see. It's a decision-making moment for Mindi. As heavy as our fears and anxieties may be, their weight is familiar, and it can be hard to let go of them. What will Mindi do?
This is a wonderful story for children who might be experiencing anxiety or fear, real or imagined. It gives them a chance to read about what happened to Mindi, how she described her worries, how her family tried to help her and how they turned to the wider community for advice. It's encouraging to know that solutions can be found, and that problems don't have to remain as permanent features of our lives.
I can highly recommend this picture book for children 4-6 years and below are more suggestions for picture books that explore what it is like to feel anxious, worried or fearful: