Illustrated by the author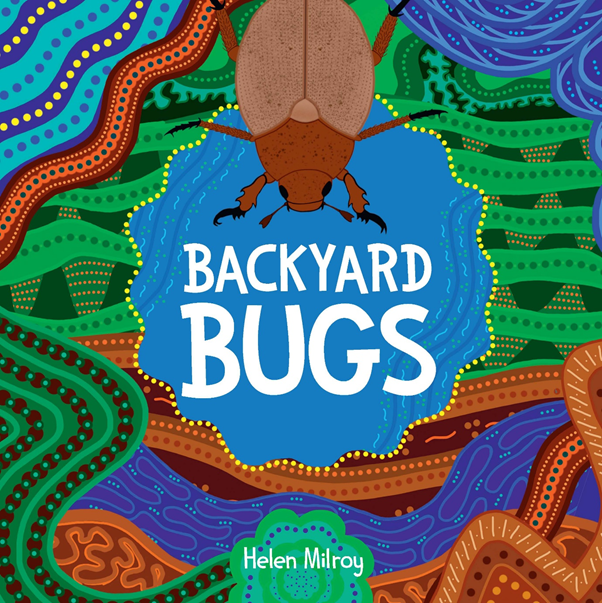 Published by Fremantle Press, WA, 2021
Helen Milroy is a First Nations artist and illustrator, born in Perth and a descendant of the Palyku people of the Pilbara region of Western Australia. Helen has dedicated this picture book to her brother David, in remembrance of all those times when they were children, finding bugs together in the wide outdoors.
I don't remember looking for insects and bugs in my childhood, but I do remember being stung by bees many times and my mother using toothpaste to soothe the painful wound. We saw lots of bull ants in the red soil of my grandfather's farm in Monbulk and heavy, iridescent beetles winging their way to shade under the chestnut trees.
When I am out in the garden today, I'm happy to find a ladybug. They are feather light, small and delicate, unique in colour and the number of dots they carry on their backs. Sometimes I see praying mantises too, swaying hypnotically, until they pounce, faster than you can imagine, upon an unsuspecting fly. Some spider webs are engineering marvels, and make you think of strands of pearls on dewy mornings.
This picture book is a wonderful introduction to the world of insects and bugs for very young children. You could walk out the back door and discover all of them in your backyard. Ants marching, dragonflies flitting, worms wriggling, spiders hanging, snails slipping and sliding, crickets chirping and ladybirds landing upon your sleeve. Each insect has its own double page spread, simple rhyme, and is illustrated using bright and vibrant colours nestled within stunning indigenous designs.
I can highly recommend this picture book for children 2-4 years and below are more suggestions for picture books which feature insects and bugs: