Photographed by the author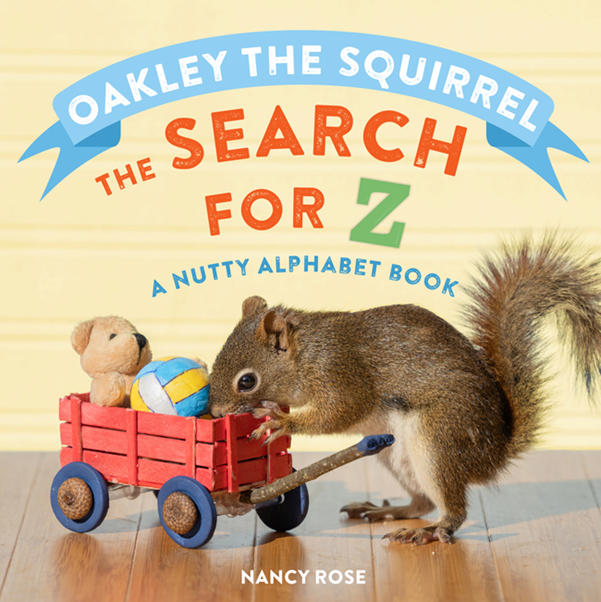 Published by Workman Publishing, New York, 2021
Nancy Rose has created a charming story about Oakley the Squirrel searching for Z in this very cute alphabet adventure. Nancy is a retired high school guidance counsellor and lives in Nova Scotia, Cananda. She makes her own props and sets using recycled and natural materials, as well as self-hardening clay, icy pole sticks and whatever she can find in her craft supply cupboards and in nature.
Luring wild squirrels onto her sets with peanuts, Nancy captures them in many different poses and creates her stories around their antics. Sometimes there is competition for the peanuts from blue jays, chickadees, and chipmunks in her backyard, but the squirrels are her favourite posers.
In this story, little Oakley is searching for the letter Z and we begin the hunt with Oakley admiring his acorns, and going on to look beneath his bed, claw through the closet, dig through the drawers and examine the easel.
There are wonderful props to enhance the search: handmade wooden tables and chairs, a hand sewn yellow mackintosh and matching hat, as well as a washing machine and ironing board. Tiny quilts, a swing set, a collection of musical instruments and a grand fireplace with mantel all provide gorgeous and interesting settings for the squirrels to explore.
The search is all so tiring for a little squirrel and on the final page we see Oakley having a well-earned sleep, his beautiful bushy tail resting on his back, his eyes closed and a series of colourful Z's issuing from his nose…too cute!
I can highly recommend this picture book for children 2-4 years and below are more suggestions for picture books which feature squirrels and other publications from Nancy Rose.
(If you would like to read more about the author, I recommend looking up BookPage on the internet, Nancy Rose was interviewed by Hilli Levin on Nov 10, 2014 – there are some great photos and personal anecdotes included in the article.)