Illustrated by Rébecca Dautremer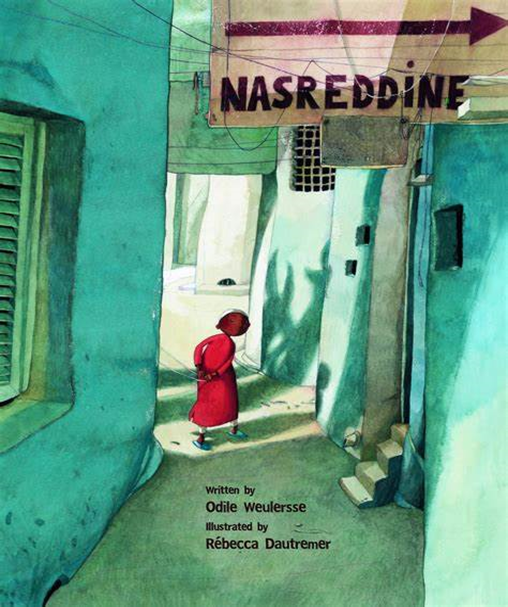 Published by Eerdmans Books for Young Readers, US, 2021
There are many roads to take in life, many people who will give you advice, and many others who will tell what to think and how to act. One of the wonderful benefits of reading is that you can learn about what other people do in difficult situations, how they make decisions and figure out a way forward.
Nasreddine is at the centre of this folk tale from the Middle East, which helps us understand what to do when faced with criticism, ridicule, and advice from others about how to conduct ourselves in life. It is a tender story about a father teaching his son this lesson, and it happens on the way to the market…and isn't that where we learn most of our lessons? We leave our front door and head out into the world, and if we are lucky, we have someone beside us, to help us think and make wise decisions.
We encounter Nesreddine enjoying a moment of peace sitting on a carpet in the shade of the palm tree drinking camel's milk with cinnamon in it. His father asks him to get their donkey ready for a trip to the market. They load up the donkey with baskets of dates and off they go. Mustafa sits atop the donkey too and Nasreddine walks happily behind with his slippers in his hand, so they don't get muddy.
All is well until a passing vizier shouts out that only a lazy man would sit on top of the donkey and let his son walk behind him in the mud.
Nesreddine is ashamed by the comments, so the next time he and his father go to market, Nesreddine makes sure to be the one on the donkey with his father walking behind. Alas, some women see them and comment that young people do not show their elders any respect and that fathers have no authority over their sons.
You can see the pattern! No matter how they ride to market, someone always has something critical to say, and they do not always say it kindly. Mustafa allows his son the time to listen and make changes to the way they ride to market, but in the end, common sense prevails. Young Nesreddine must learn the difference between good advice and bad, listen to his own heart and learn from his mistakes.
For most of us, these lessons take a lifetime, and can sometimes they can be learnt more easily when told as a story. I can highly recommend this picture book for children 6-8 years old and below are more suggestions for picture books that use fables, and traditional and modern stories to teach valuable life lessons: