Illustrated by T.L.McBeth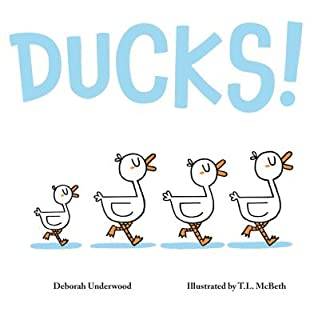 Published by Henry Holt and Company, Godwin Books, 2020
We are introduced to a little family of ducks in this simple but clever story by Deborah Underwood. One duck is more adventurous than the rest and gets distracted by a hovering butterfly and wanders off, following the butterfly in a daydream. By the time Duck returns to the pond, the others have disappeared!
There is a moment of shock and surprise, what will Duck do next?
Duck starts looking for clues that might help him find his family and we begin the rollercoaster ride of high hopes and dashed hopes as each new lead proves false.
Duck can hear squawking in the park, could that be his family calling him? No, it's just a brass band playing.
There are webbed footprints on the path, could that be the footprints of his family? No, it's just a boy with flippers on his feet.
There are feathers falling from the sky, could they be the feathers of his family? No, some children are having a pillow fight and feathers are flying everywhere.
All these false leads are humorously illustrated, and Duck's emotions range from optimism to you-have-got-to-be-kidding. There are only two words used in the whole story and they appear as capital letters and express their own emotions! DUCKS? and NO DUCKS! The illustrations use only three colours and this simple combination of text and art works brilliantly together all the way to the happy ending.
I can highly recommend this story for children 2 – 4 years, it is easy to read, easy to understand and can help start a conversation about how it might feel to be lost, relying on yourself when there is a problem and persevering to find solutions in tricky situations.
Below are more picture book recommendations for stories which explore the idea of being lost: