Illustrated by the author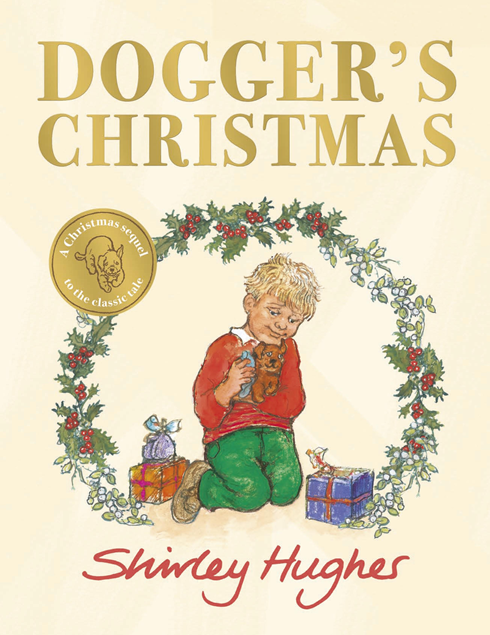 Published by The Bodley Head, Penguin Random House, 2020
"Dogger has become something of a celebrity. He was put in a glass box, on tour, at the Ashmolean in Oxford and Liverpool Walker Art Gallery. He has one ear flopped down as it should be, and another was cocked up from years of cuddling and has remained that way after 60 years. His eyes are rather far apart, which makes him especially endearing. He's retired from the celeb circuit now, living in a shoebox, only coming out for the occasional photoshoot." – The Guardian, Dec 22, 2019
If you have picked up this book and been enthralled by the story, then make sure you go back to the beginning and read Dogger, also written by Shirley Hughes, way back in 1977. This Christmas sequel, released last year, has been written and illustrated by the same lady at the amazing age of 92. The wonder is that the children Bella, Dave and Joe are still much the same age as they were when the first story was conceived over 40 years ago, and life in this new story is much the same as it was then. It's a time I remember in my childhood, when Christmas lists were posted up the chimney, paper decorations were made for the tree, and hand made cards were given with love.
Dogger is Dave's favourite toy dog, and almost as old as Dave himself. He is brown and small, with one ear up and the other ear down, and Dave's constant companion. Dogger has been lost before and Bella, Dave's big sister, saved the day. As Christmas approaches in this story, Mum takes Bella and Dave to the shops and they very wisely leave Dogger at home, waiting for their return sitting on the windowsill. Nobody wants the stress and trauma of losing Dogger again!
Christmas arrives and we are enveloped in all the familiar traditions of the day, with stockings full of presents, wrapping paper strewn everywhere, grandparents joining the celebrations and a special visit to a lonesome neighbour. The strength of family bonds, the joy of being together and sharing in the deeper meaning of the nativity is expressed so beautifully in text and illustrations.
It's not until the end of the day, when mum and dad are cleaning up, and all the children are asleep at last, that a wail is heard. It's Dave and he wants Dogger, but where is he? It seems that this time, Dogger is truly lost. Can Bella save the day again with her kindness, ingenuity and empathy?
This is a wonderful story about family, love, loss and hope. A story that keeps reminding us about the important things in life and caring for others. I can highly recommend it for children 4 years and up to 104 years, after all, it was written by a 92 year old lady, with enough life experience to share her wisdom with everyone.
Below are more of my favourite stories by Shirley Hughes: