Illustrated by the author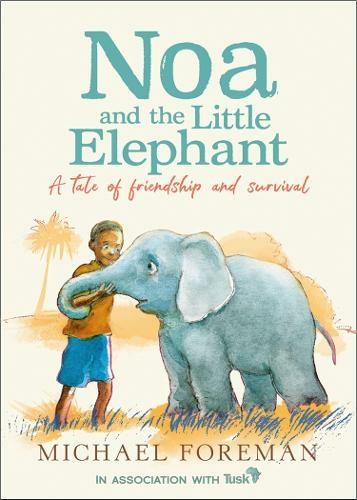 Published by HarperCollins Children's Books, 2021
Michael Foreman has dedicated this picture book to "all creatures great and small and to the children of the world who will look after them." It is a wonderful story about conservation, friendship and hope for the future.
In association with Tusk, an African wildlife conservation charity, the story is prefaced by Julius Obwona, a Ranger who works in Uganda protecting wildlife in the Murchison Falls National Park. There is a small photo of Julius and, underneath this, he talks about how he became a ranger and the work being done to protect all the animals in the park. Poaching has had a huge impact on elephant survival, but thanks to constant patrolling within its borders, there is hope for the future with increasing numbers in elephant herds.
In this picture book, Michael Foreman weaves a tender tale about little Noa, a young boy who takes his small boat out on to the river every day after school to catch fish for his family's supper. Along the riverbanks, Noa encounters an amazing array of wildlife, but he especially loves watching a mother elephant with her baby. One day, Noa discovers the baby beside her mother, lying on the ground, unmoving and with her tusks removed. It is a poignant scene, illustrated in pencil and without colour.
Noa decides to take the baby elephant back to his village and they adopt it as their own, feeding and caring for it, and naming it Tembo.
One night, a terrible storm ravages the village and little Noa finds himself floundering in the river trying to save his boat from the floodwaters. Desperate to reach the safety of land, Noa feels something solid in the water bumping him towards safety…it's Tembo!
And then little Noa makes a promise, just like Julius the Ranger:
"When I'm older, I will join my dad and the other villagers to make sure that no more elephants are shot. You are my brother. We are all one family living under the same sky, sharing the same world."
I can highly recommend this picture book for children 3-6 years and below are more picture books about elephants, some are about conservation, most are fictional, and all celebrate this amazing animal: