Illustrated by the author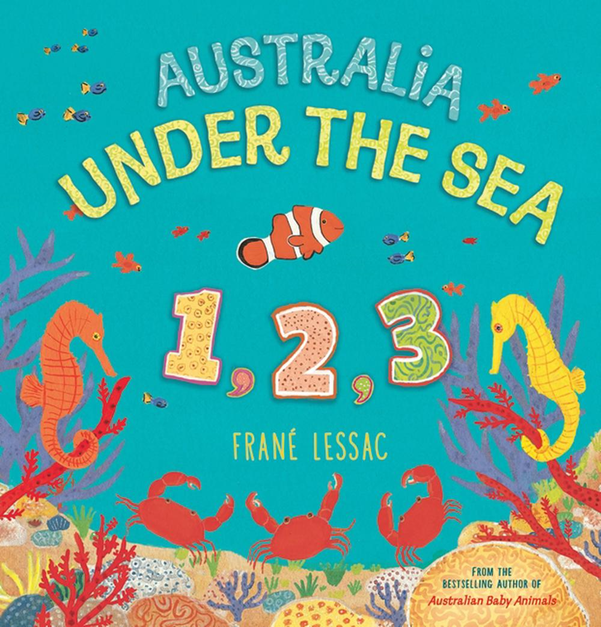 Published by Walker Books Australia, NSW, 2020
This picture book is a wonderful introduction to marine wildlife in Australia, focussing on those creatures that make their home around our spectacular coral reefs.
The front cover invites the reader in with its beautiful sea-green blue and colourful illustrations of sea creatures in their natural habitat. A short introduction about what a coral reef is and how it is made sets the scene for a counting journey from one through to twelve.
We learn about giant whale sharks, shy dugongs, orange clownfish, stripy sea snakes, spotted rays and many more. Each marine animal is illustrated on a double page spread and accompanied by one or two concise sentences that give the reader some amazing facts which is not overwhelming for pre-schoolers.
At the end of the book, Lessac has concluded with a simple but profound statement about why we should protect this wonderful treasure of the deep:
Coral reefs are important because they keep the sea healthy. A healthy reef means a healthy sea. A healthy sea means a healthy planet.
One final page sets out all the creatures from one through to twelve, so that younger readers can identify the marine animals, count them individually and then go back to the front double page spread and play a game of I-Spy. It's very clever!
I can highly recommend this picture book for children 2-4 years and below are more suggestions for picture books which explore marine wildlife, ocean habitats and the many wonders of the sea: