Illustrated by Lucy Ruth Cummins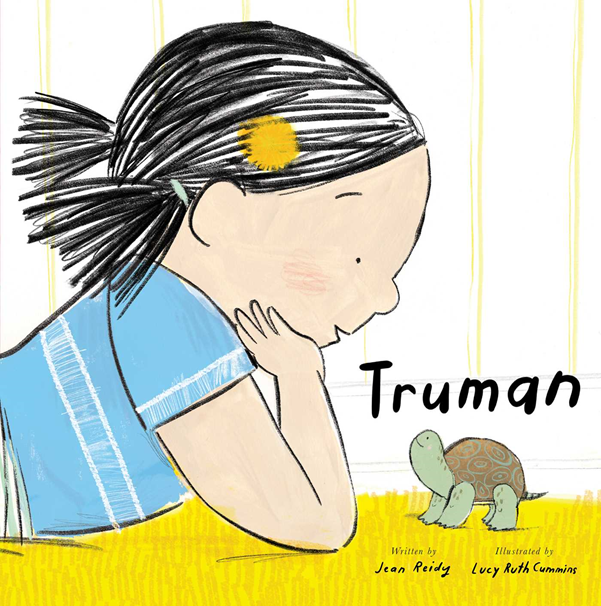 Published by Atheneum Books for Young Readers, 2019
The first thing I have to say is that I want a turtle just like Truman. As big as a donut, just as sweet, and full of pluck, this little turtle has found a place in my heart.
Truman the turtle belongs to Sarah, and we discover that he has excellent manners, never growling or shrieking at anybody. Truman is just pensive, peaceful,l and thoughtful like Sarah and observant too.
When Sarah packed an extra big backpack, fitted a blue bow in her hair, had extra banana with her breakfast AND served up extra beans for Truman to eat, he just knew something was up.
Truman was right. His worst fears confirmed. Sarah had boarded the Number 11 bus going south and Truman had been left behind.
This is the part of the story where Truman's character shines. He is determined to find Sarah, even if it means facing all his fears and venturing out into the world on his own. Truman's progress out of his tank, across the couch, over some tall boots and through the vast pink rug that seems to go on and on, is an adventurous trek that requires steely determination, bravery, and ingenuity. Can he do it?
It takes a long time to travel that far, and by the time Truman reaches the front door, there are some familiar sounds on the other side. Could it be his Sarah?
This is a wonderful story that touches on themes of separation anxiety, finding your inner strength, getting out of your comfort zone and stepping into the unknown. It also reinforces the idea that relationships are built on trust and love and exist whether we are all physically together or far apart.
I can highly recommend this picture book for children 3-6 years, and below are more suggestions for picture books which feature turtles and tortoises, some fictional and others educational: