Illustrated by the author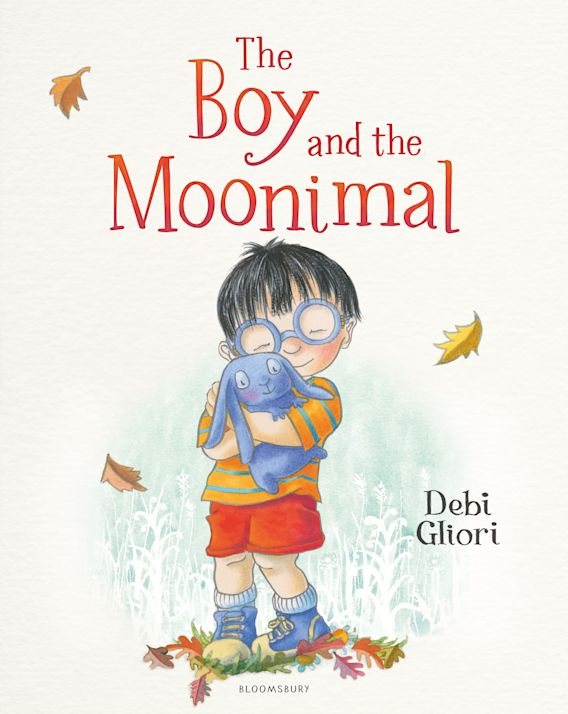 Published by Bloomsbury Children's Books, UK, 2021
This is a story about Moonimal, a little blue rabbit with three floppy ears, who is found one day on a shelf inside a shop full of wonderful knick-knacks. The Boy and Moonimal are inseparable. They have exploring adventures together, they pretend to be doctor and patient, and even fly into space and back again in their cardboard rocket. It feels like they will be together forever.
One day, deep in the woods, with autumnal leaves littering the ground, the young Boy trips, breaks his glasses and can't find his beloved blue rabbit anywhere. Turning the page, Moonimal begins to tell the tale of what happens next.
Moonimal waits and waits, hoping to be found again. Instead, some woodland rabbits, who are small and grey, with two floppy ears each, find Moonimal and take him back to their underground burrows. Time passes.
In a meadow one day, Moonimal gets snatched up by a hunting owl and dropped into a cold rushing river. Swept away by the strong currents, Moonimal is found downstream by grazing deer and he stays with the herd for many more years.
Until one day, danger comes again! A dog appears suddenly, scattering the reindeer, and in their haste to flee, Moonimal gets left behind. The dog proudly picks up Moonimal in his jaw to present to his owner. Could this be the end, or has the story come full circle?
This is a gently crafted story of hope when all seems lost. Something similar happened to us many years ago when our two-year-old daughter lost her favourite teddy. We looked everywhere for it. We asked everyone we knew to look for it. I even tried to buy a new one, ringing up stores and asking friends and family to keep searching. I remember days and nights full of tears and longing. Time passed, the ache of loss eased, and my daughter discovered other favourite toys. But do you know what? A friend turned up on our doorstep about six months later, with the lost teddy in her hands!
I expected my daughter to be overjoyed, and she was, but there was another overriding emotion, cautious reserve. If teddy was lost once, then he could be lost again. It was sad to see this understanding in my daughter's eyes, because sometimes in life, that's just the way it is. It was my daughter's first experience of loss and grief, sadly not the last, and one of the many lessons to learn in life.
I can highly recommend this picture for children 3-6 years and below are more suggestions for picture books which explore the experience of losing a beloved toy: