Illustrated by Isabel Roxas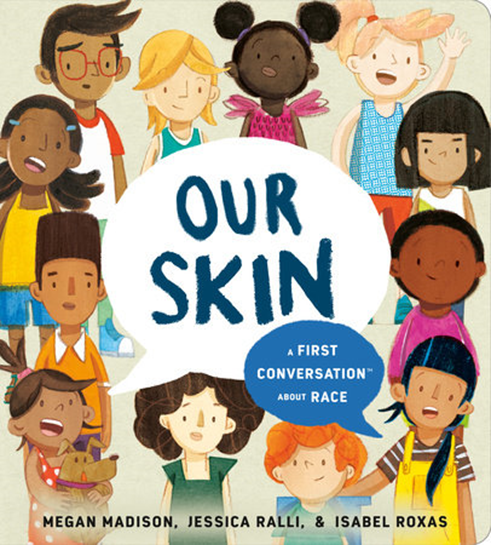 Published by Rise x Penguin Workshop, 2021
"Young children notice a lot – including skin color, race, and even injustice and racism. It can be hard to find the right words to answer their questions or start a conversation about race. But when we talk about it, children often come to their own conclusions, which can include bias and stereotypes because of the world we live in. Simple conversations can help them make sense of their world and even recognise and speak up about injustice. This book is a good place to start or continue the conversation. It's okay to take a break, leave something out for now, or weave in stories of your own."
By Megan Madison and Jessica Ralli
The above quote is from the first page of this wonderful book which explores the idea of racism and how we can begin to talk about it with young people.
Despite the complexity of the topic, the text is simple, clear, and concise and begins with the most basic of questions: what colour is your skin?
It encourages the reader to look about themselves and recognise differences in skin colour amongst family, friends, and neighbours. It reinforces the beauty of our skin and its importance for our bodies. It explains why some people have darker or lighter skin because of varying levels of melanin. It provides a vocabulary to use when talking about people of colour, and lists words used in the wider world to describe groups of people who are not white.
But best of all, it explains what the colour of someone's skin can't tell you about a person. It can't tell you how a person feels, what they are thinking, what they know and like. From here, it's a small step to reflecting upon how people of colour have been unfairly treated in history, how racism has been pervasive in societies and how it has gone on, unnoticed and unchecked.
In our personal lives, racism can be expressed in the ways we exclude people based on the way they look or talk, it can be in the ways we address people or label them, and whether we do this on purpose or by mistake.
So, what can we do? We can be more aware in our relationships, we can march in protest, we can speak up, we can teach, help, learn, and listen. We can start the conversation with young people, educate them and ourselves, and actively participate in anti-racist efforts.
I can highly recommend this picture book for children 4-8 years and adults too, and below are more suggestions for picture books which look at the issue of racism and being different in creative ways: