Illustrated by Cindy Lane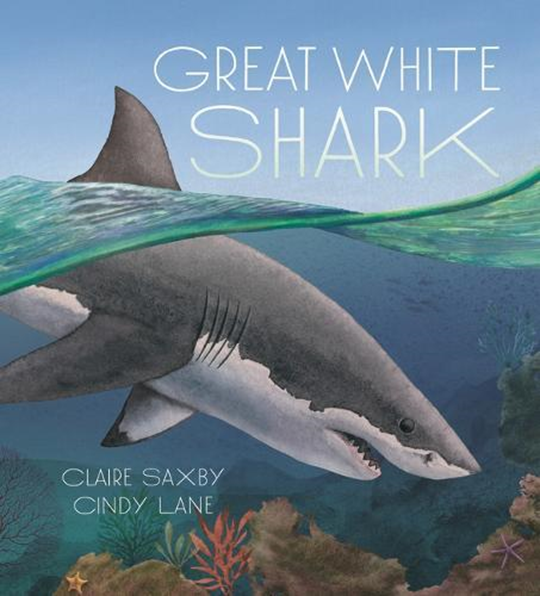 Published by Walker Books Australia, NSW, 2021
Cute and cuddly. Not the first words that come to mind when I think of sharks. There are all those teeth for a start. Then, there is its triangular dorsal fin skimming through the water and the ominous intent with which it seems to seek its prey – the shark demands respect and terror in equal parts.
The cover of this picture book doesn't shy away from the image of what a shark is, even though most of us have probably never encountered one, unless of course we have been safe behind glass.
The end papers are particularly haunting. As you open the book, there is a shark swimming directly towards the reader, silently navigating the sun- kissed ocean, poised, and focussed, spiderwebs of sunlight shimmering along its body. When you finish reading the book, the shark is swimming away, almost as if it has been released in the knowledge that the reader knows more about what it is. To be known is to be loved, after all.
And in between the end papers, there is much to learn about the shark. Where it lives, how big it can grow, how many years it can live, how it finds food, what it most likes to eat, how pups are birthed, and whether it is a solitary creature or not.
The main text is beautifully poetic and descriptive, but on each page, there is also a short paragraph using smaller text with more information. Together, these words, coupled with the evocative illustrations, give the reader a complete picture of the shark, its lifestyle and habitat.
Claire Saxby lives in Melbourne, Australia, and has written other picture books which focus on Australian animals: Big Red Kangaroo and Emu (with Graham Byrne as illustrator), Koala (with Julie Vivas as illustrator) and Dingo (with Tanny Harricks as illustrator). They provide a great introduction to these animals and their habitats, perfect for enquiring minds!
I can highly recommend this picture book for children 4-6 years and below are more picture books which feature sharks, a mixture of fact, fiction and fun: